Shafilea Ahmed's father had 'embraced Western culture'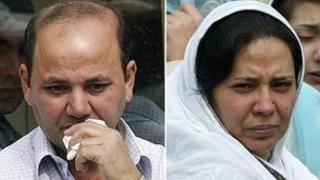 Iftikhar Ahmed embraced Western culture until his marriage to Farzana, his ex-wife said.
Iftikhar and Farzana were jailed for life for the murder of their daughter Shafilea in Warrington in 2003, after a jury heard she brought them shame.
Vivi Lone Andersen said Iftikhar was "a very happy boy" who enjoyed dancing, drinking beer and going to discos when he lived with her in Denmark.
She said his personality changed around his Pakistani relatives.
Ms Andersen, who is Danish, married Iftikhar in 1982 in Copenhagen and they had a son, Tony Andersen.
The couple lived in Denmark until 1986, when he received a letter from family in Pakistan and told his wife he had to go home as his mother was unwell.
'Deep trouble'
After several months in Pakistan, Iftikhar asked Ms Anderson to join him in Bradford with their son to start a new life.
When she arrived, a heavily pregnant woman, whom Iftikhar introduced as his cousin Farzana, was also living in the house.
It was only when a health visitor went to the house that Iftikhar admitted that Farzana's baby was his and that he had married her in Pakistan.
He told his wife that he and Farzana had been promised to each other when they were children.
Ms Andersen left the UK the same month she had arrived and recalls conversations with Iftikhar in which he said he could leave his son to grow up without his influence because he was a boy.
He said, if they had had a girl, he would not be able to allow her to grow up "without his guidance in the Islamic ways".
Ms Andersen said Iftikhar changed when relatives from Pakistan visited them, and he told her he felt forced to marry Farzana after she threatened to kill herself if he did not.
"He explained to me that if he had not married her, she did not want to marry anyone else but him," Ms Andersen said.
"She would kill herself if he didn't marry her in Pakistan, and then he did it."
Ms Andersen said she was married to Iftikhar for five years, but left him after learning he had married Farzana, adding: "Farzana was pregnant at that time so he was in deep trouble and he knew that if I went to the British police, which I could have easily done, he would have been thrown out.
"I don't know the rules in Britain about having two wives because we were still married at that time."
Iftikhar, 52, and Farzana, 49, went on to have three daughters and a son. Shafilea went missing in 2003 and her body was found in February 2004.
The couple had denied her murder but the jury at Chester Crown Court returned guilty verdicts against them both.