Shafilea Ahmed case shows victims 'must break ranks'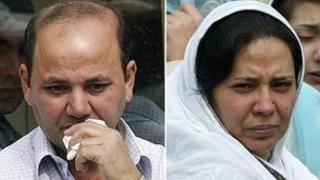 Prosecutors hope the courage of Alesha Ahmed in giving evidence against the parents who murdered her sister will inspire others to report violence.
Alesha finally told police in 2010 she had seen parents Iftikhar and Farzana kill Shafilea in Warrington in 2003.
Her evidence formed the main plank of the prosecution case, which resulted in the pair being jailed for life.
The Crown Prosecution Service said the case showed the justice system would not let down those who "break ranks".
Iftikhar, 52, and Farzana Ahmed, 49, had denied her murder but the jury at Chester Crown Court returned guilty verdicts against them both.
'Crucial to case'
Mr Justice Roderick Evans said they would both serve a minimum of 25 years.
The prosecution claimed she was murdered by her parents because they believed she brought shame on the family.
Helen Morris, of the CPS, said: "There are many ways to describe what happened to Shafilea: Child abuse, domestic violence and honour-based violence being just three. However you choose to characterise it, the CPS is committed to convicting perpetrators such as the Ahmeds.
"But to do that, we need victims and other family members to break ranks and give evidence as Alesha Ahmed did.
"If you do come forward, this case has shown that the justice system will not let you down."
She added: "Despite the best efforts of the defendants to derail the investigation into her death by subverting witnesses including their own children, the Crown Prosecution Service and Cheshire Police have worked tirelessly to gather the evidence and present it to a jury.
"The statement of Alesha Ahmed, Shafilea's younger sister, was crucial to our case and today's result is a testament to her courage over the last two years."