Fall death man Lindsay Campbell 'lived life to the full'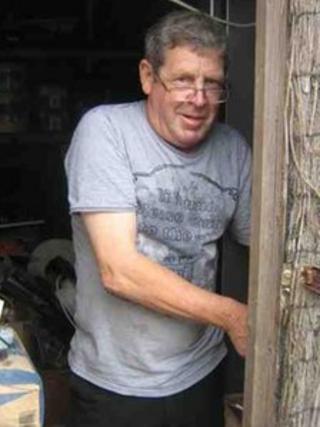 A father of 10 children who died after an accident at a skip hire firm in West Sussex lived life to the full and knew how to have fun, his family has said.
Lindsay Campbell, 66, of Waterlooville, Hampshire, died from injuries sustained when he fell about 30ft (10m) out of the bucket of an excavator on 25 July.
His wife Julie said he worked on the Channel Tunnel, London Docklands and at a copper mine in the Solomon Islands.
He was "a kind, lovely, intelligent man who could turn his hand to anything".
In a statement issued on behalf of the family, Mrs Campbell said her husband had "designed a fire engine that was used at airports, an air raid shelter used by politicians, smoke detectors and the M27 lights, as well as working on jumbo jets".
Mr Campbell, who was born and raised in New Zealand but spent most of his life in the UK, was fatally injured while running cabling through the roof of a building at South Coast Skips, on Rudford Industrial Estate in Ford.
'Life lessons'
A 21-year-old man from Hampshire also suffered a broken leg and elbow in the incident.
Mrs Campbell said her husband "was enthusiastic about life and liked to achieve a positive result in all that he did".
She said being a father of 10 brought him "nothing but pleasure... he taught them valuable life lessons".
"He adored his grandchildren as they adored him," she added.
"His sudden death has devastated me and my children. It won't be the same here without him.
"We are trying to cope as we comfort each other through this difficult time. We already miss him terribly."