Tom Daley Twitter abuse: Boy arrested in Weymouth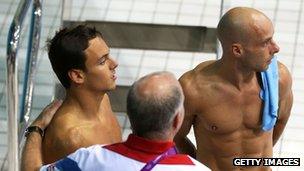 A teenager has been arrested by police investigating abuse of Team GB diver Tom Daley on Twitter.
After coming fourth in the men's synchronised 10m platform diving event on Monday, the 18-year-old from Plymouth received a message telling him he had let down his father, Rob.
Rob Daley died in May 2011 from brain cancer.
A 17-year-old boy was arrested at a guest house in the Weymouth area on suspicion of malicious communications.
Dorset Police said they acted after being contacted by a member of the public at about 22:30 BST on Monday.
A spokesman was unable to confirm whether the arrest was specifically over the tweets to Daley or subsequent Twitter conversations with other users.
Daley responded to the tweet by posting: "After giving it my all...you get idiot's sending me this..."
The user later posted a tweet apologising for the comment.
He said: "I'm sorry mate i just wanted you to win cause its the olympics I'm just annoyed we didn't win I'm sorry tom accept my apology."
He later added: "please i don't want to be hated I'm just sorry you didn't win i was rooting for you pal to do britain all proud just so upset."
After Daley sent the tweet on to his followers, he received a flood of supportive messages.
Daley's diving partner Pete Waterfield tweeted: "For all the haters out there, come do what we do then have ur say."
Open water swimmer Keri-Anne Payne also posted: "Ignore the idiots! Not worth it."
Another Twitter user, @sherricramer, posted: "You did your dad so proud! Never give up."
Deputy mayor of the Olympic Village, Duncan Goodhew, a swimming gold and bronze medallist at the Moscow Olympics in 1980, described the behaviour of the offending Twitter user as "appalling".
"I suppose that social media in one sense is fantastic, but turned the wrong way round it is very, very personal and it destroys people's lives.
"So I think people should be much more careful about what they say."
Rob Daley, who was instrumental in helping his son become one of the world's top divers, was diagnosed with a brain tumour in 2006.
He had 80% of a fist-sized tumour removed that year and had been in remission until a routine health check in 2010 discovered a tumour had returned.
Speaking before the Olympics, Daley said his father had given him the inspiration to compete in the Games.
He told the BBC: "I'm doing it for myself and my dad. It was both our dreams from a very young age.
"I always wanted to do it and Dad was so supportive of everything."
Related Internet Links
The BBC is not responsible for the content of external sites.