GB gymnastics medal joy at Kristian Thomas's Halesowen club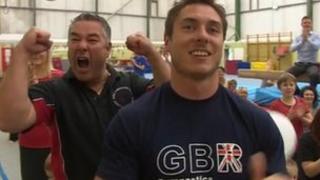 "To have Kristian here doing what he's doing is just phenomenal. It is a great privilege to have him in the club."
That is the view of John Caulwell, chairman of Earls Gymnastic Club in Halesowen, on having London 2012 bronze medallist Kristian Thomas at his club.
Thomas was part of Great Britain team which won the country's first men's Olympic team medal in a century by claiming bronze at the North Greenwich arena.
Wolverhampton's Thomas, along with Louis Smith, Max Whitlock, Daniel Purvis and Sam Oldham, were initially awarded silver but an inquiry into the score of Kohei Uchimura's pommel horse routine saw Japan claim silver and Britain downgraded to bronze.
'Absolutely ecstatic'
Thomas, 23, trains at the Halesowen club two or three times a week and has been a member since the age of five.
Many supporters, including Commonwealth bronze medallist Ryan Bradley, packed into the Halesowen club to watch the event on a television and cheered in unison when the medals were awarded.
Mr Bradley said: "It's a lifetime ambition to achieve the Olympic Games and to get a bronze medal. I think he's probably in the best form of his life at the moment and he's showing it."
Mr Caulwell, who has been at the club for seven years, said: "It is absolutely fantastic, it is such an inspiration to our young gymnasts and our young members for them to have someone like him to look up to.
"It's absolutely superb. Total euphoria at the end of the day. The highs and then the lows.... but over all, absolutely ecstatic at the boys' performance.
"He [Kristian] is a fantastic lad, what you see is what you get. He is very understated, got a nice quiet demeanour and just gets on with the work in hand.
"It's no coincidence they should use him to go last as the anchor man.... he's the original ice man.
"It was extremely nerve-wracking and by far better than we expected."
Following the final, Thomas said: "It's what dreams are made of.
"When I was younger that was all I'd think about, winning an Olympic medal and here I am right now, standing with a bronze medal.
"Silver, I know, it would have been nice, but no, I couldn't complain at all right now."