Riots one year on: Volunteers respond to mentor call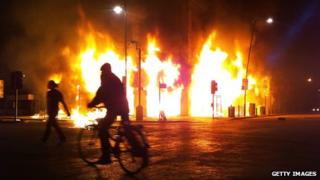 Charities which help vulnerable children say the public heeded a call for action after the England riots.
The Riots Communities and Victims Panel's final report said people should volunteer to strengthen their communities and address local issues.
Bosses at three child mentoring charities said there had been a "spike" in volunteers while businesses had donated funds to expand programmes.
But one CEO said it was important people continued to help.
Gracia McGrath, Chance UK's chief executive, said: "After the riots we saw a spike (in people wanting to volunteer) and there was a sense people really felt they needed to take responsibility.
"One thing I hoped post-riot report was that people would be reminded this was not something that would go away with the clean-up.
Poverty never helps
"There has to be a change in the way people think so that we see every child in our community as our responsibility."
The charity connects volunteers with primary school children who have been identified as at risk of becoming involved in crime or anti-social behaviour.
Ms McGrath welcomed the increase in volunteers but warned that as the recession continued the possibility of rioting had not gone away.
"Poverty never helps a situation - the people who rioted were at the bottom," she said.
"Dissatisfaction will grow as the gap between the rich and poor gets bigger.
"Unless we work really hard to take this seriously I think it will happen again.
"People have very short memories but the first anniversary of the riots is an opportunity to remind people of what they felt when they woke up to find their community destroyed - they wanted to go out with brooms and help. They still need to feel like that and go out and help their community."
One person who wanted to help her community after the riots is Farisha Stewart.
The 24-year-old, who lives in Tottenham, was scared to go out during the riots but after the clean-up she was determined to help her neighbourhood.
She said: "I wanted to do something - the reaction in the media was that all the kids involved were bad but if you're from a low-class area it's really hard to make it.
"Knowing some of the people involved I knew they had got angry because they hadn't got much going for them.
"They feel they don't have any prospects in life."
She said she could understand their frustrations because she had experienced them herself.
"I've thought at times I can't do it any more when I've had problems with money and family issues," she said.
Ms Stewart volunteered for a year at a local school through the charity City Year helping to organise breakfast, homework and reading clubs.
After completing her year of volunteering she is preparing to begin a Masters in social work - something she said her experience working at the school had given her the confidence to go for.
Lee Bailey, spokesman for City Year, said they had expanded the areas they operated in to include Tottenham and Brixton partly as a result of the riots.
He said: "Since the start of January we've had several volunteers coming forward talking about the riots as their reason for joining.
"People in Tottenham in particular are very passionate about their area and keen to help their community and defend its reputation."
He said the Government had engaged with them through funding and support to help them expand the scheme.
"They see the educational impact we have with children and the benefit for young people as well," he said.
Another organisation to notice people wanting to volunteer because of the riots is ReachOut! - a mentoring charity which helps young people in Manchester and east London to develop numeracy, literacy and communication skills.
Hannah Christie, fund-raising and volunteer manager, said the riots had affected the number of people coming to them to volunteer and offer support.
She said: "The riots have had a big impact on how people and companies have engaged with us and the young people we support.
"Since September 2011, we have had over 1,000 people in England get in touch with us expressing their interest in becoming a mentor. This has resulted in our 450 volunteering places being full up quicker than usual."
She said they were also seeing a lot of growth in companies offering funding and long-term volunteering by staff members.
Wanton destruction
She said financial news service Bloomberg had part-funded a football academy in Hackney, while 10 of their staff volunteered as mentors in weekly academic sessions.
Kevin McQuaid is a primary school teacher from Hackney who has been volunteering with ReachOut! since 2009.
The 39-year-old saw rioters at the end of his road from his flat window.
He said: "I was surprised by the level of wanton destruction.
"I went out to talk to the people cleaning up (the next morning) and there was a lot of anger that (the rioters) had destroyed businesses owned by local people.
"You're not going to change anything by aiming your anger at the people who live in your community."
But he said rather than feel frustrated by the actions of the rioters the events of last summer had made volunteering "more important" than ever.
He said: "There is an expectation now of wanting something for nothing which has come from politicians and bankers - people with success do what they want with no sense of consequences.
"There isn't a moral compass and you can't expect people with nothing to have a moral compass when those in authority don't."