Record rainfall restores rivers in Thames region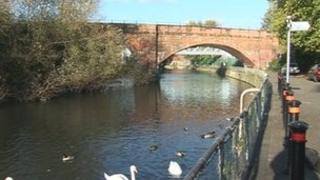 Record spring rainfall has revived drought-depleted rivers in the Thames Water area but groundwater levels are still below normal, the firm warned.
Tributaries feeding the River Thames are now flowing at seven times the volume they were four months ago following the wettest spring on record.
Thames Water said the turnaround had safeguarded water supplies for its nine million customers this summer.
It said the restored river levels had also "saved fish and other wildlife".
In early April, after the driest two years ever recorded across the Thames Valley and London areas, the Coln in Gloucestershire, Kennet in Wiltshire, Pang in Berkshire, Wye in Buckinghamshire, Lee in Hertfordshire, Wey in Surrey and Darent in Kent averaged 33% of their normal flows.
The Kennet and the Pang dried up completely along their upper reaches, prompting fears of a drought and leading to a hosepipe ban being brought in.
'Need wet winter'
According Environment Agency figures, more than two-and-a-half times the normal rainfall fell in April and June, while May and July also saw levels above average.
This led to the average flows increasing to 229% of their long-term average by 20 July in the seven rivers mentioned above.
Only the Wye is still flowing below average, which is down to groundwater levels taking longer to recover there, Thames Water said.
Richard Aylard, Thames Water sustainability director, said: "It may be hard to believe but while the current account - our rivers and reservoirs - is looking very healthy, our savings account - the natural storage basins deep below ground - remains in the red in four out of the seven river areas.
"For our invisible underground supplies to return to normal we will still need steady rainfall this winter.
"Rain in spring and summer tends to get sucked up by plants, while winter rain soaks deep into the soil to top up the groundwater."
Mark Lloyd, Angling Trust chief executive, said: "While the rain has ruined the first half of many people's summer, it has quite literally been a life-saver for fish and other wildlife in our rivers, which were in a perilous state in the spring."