Milk farmers blockade Dairy Crest in Derbyshire and Gloucestershire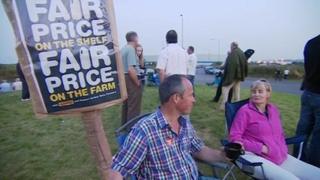 Farmers have blockaded two milk processing plants in protest at declining payments to dairy producers.
Some 200 farmers have been at the Dairy Crest factory at Foston, Derbyshire, since about 12:00 BST. They say they will stay indefinitely until the price they receive for milk is increased.
There was a blockade at the plant last week amid protests around the country.
Meanwhile, 45 farmers have blocked the entrance to a Dairy Crest plant in Stonehouse, Gloucestershire.
Andrew Hemming from Farmers For Action said about a dozen tractors had been used to block the road.
Dairy Crest was unavailable for comment.
'Blaming one another'
The National Farmers Union says cuts in the price paid to suppliers, combined with rising feed costs, could force hundreds of farmers out of business.
The protesters are using tractors and farm machinery to stop vehicles entering and leaving the processing plants.
One of the farmers at the Derbyshire protest, Paul Rowbottom, said: "All they have got to do is give some of the profit back to us."
"I'm annoyed at them because they've got the money to give it back. They've only got to talk to the supermarkets and they are all blaming one another."