UKIP's Nigel Farage plans to make more impact at polls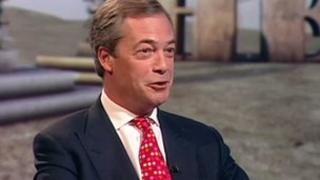 The leader of the UK Independence Party has spoken of his intention to run a candidate in every seat across the East of England for next year's local elections.
Nigel Farage predicted that UKIP would pick up seats next year as voters and particularly Conservative voters, became increasingly disillusioned with the coalition government.
"We're picking up votes from across the political spectrum," he says.
"There are tens of millions of people out there who wonder if our politicians are in touch with reality. The truth is that we're run by a wealthy group of college kids who aren't."
It's clear where he believes most of his support is coming from: "You couldn't be more pro-Europe than David Cameron. Since he has come to power there are a lot of Conservatives who thought they were going to get something very different.
"He made promises on immigration, on a referendum and on dealing with the Human Rights Act - he's failing to deliver."
Eurozone crisis
Mr Farage spent the day in Great Yarmouth meeting local supporters.
He dropped into the races, did a bit of fundraising for the Royal Anglians and spoke at a party dinner; confident as ever that things are moving his way.
"The Euro Zone is on the brink of a total and utter disaster. We are the party which from the start said this will never work," he said.
"We are the party that increasingly represents the mainstream view in Britain, which is let's trade with Europe, let's be friendly with Europe but for goodness sake let's govern our own country".
There are concerns in Conservative circles about the growth in support for UKIP.
The fear is that come the next general election Mr Farage's party will split the Conservative vote.
A recent study by Peter Kellner has suggested that the Tories could lose 30 seats to Labour at the next election because of UKIP - enough to cost them a majority.
Some commentators have suggested a rapprochement between the two parties but at the moment that seems unlikely.
Impact at polls
Mr Farage boasted today that he is still in talks with two Conservative MPs who are thinking about defecting.
But he will have to make more of an impact at the polls.
Conservatives point out that despite all the claims made by UKIP before this year's local elections the party didn't pick up any new seats in Norfolk - although they did gain a couple more in Cambridgeshire.
Mr Farage is adamant there will be more success at the polls next year: "We are now coming second in lots of places where we used to come third.
"We will be making a sustained effort for the county council elections next year.
"It is our intention to put a candidate in every single seat."
We will know then if he has kept his promise to "pick up more seats next year".