A14 toll in Cambridgeshire could lead to 'rat-runs', say residents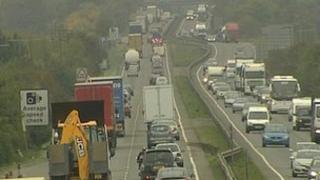 Tolling part of the A14 could result in some Cambridgeshire villages becoming "rat-runs" as drivers attempt to avoid the charges, concerned residents say.
The Department for Transport's (DfT) plans to upgrade the A14, which links the port of Felixstowe to the M6, could cost as much as £1.5bn, it estimated.
A toll on a 20-mile stretch is proposed to help fund part of the work.
County council leader Nick Clarke said it would work on strategies to ensure traffic stayed on the toll road.
The council has been working with the DfT and councils in Northamptonshire and Suffolk, seeking solutions to congestion issues on the road.
This resulted in the proposed improvements along the route of the A14 from Milton through to the A1 junctions, a tolled 20-mile (32km) stretch of road, two new untolled roads for local use and upgrades to the existing carriageway with the removal of accesses and junctions.
Girton parish councillor Douglas de Lacey said residents were "very cautious and very worried" about the impact of the plans.
'Keen on growth'
The village straddles the A14 and he said people feared tolling part of it would result in rat-running leading to "further noise and pollution".
"We're all in agreement that something needs to be done, but there was certainly not universal approval of the plans as proposed," he said.
Haulage company manager Malcolm Shovelton said: "It will increase costs. We will end up having to absorb that but then it could have an effect on jobs."
John Bridge, chief executive of Cambridgeshire Chambers of Commerce, said: "The money has got to come from three different sources: the toll, money from local authorities here and perhaps from Suffolk and Northamptonshire, and a significant amount of central government money.
"The government is really keen on the growth that we can provide through Cambridgeshire and know the kind of economic benefit that can be derived from this area.
"If they really believe the rhetoric that we have about this growth then I believe they should be putting their hands in their pockets and guaranteeing the money so we know with some certainty it's going to happen."