Many ambulance stations to close in reorganisation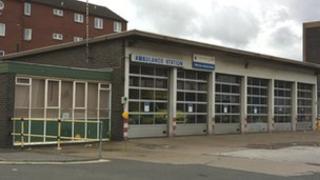 Dozens of ambulance stations are to be closed and sold as part of a shake-up of East Midlands Ambulance Service (Emas).
The move will see the region's 66 current ambulance stations replaced with 13 larger "hub stations" and more than 100 "tactical deployment points".
Emas hopes to improve response times after it underperformed over recent years.
It said the changes would be brought in over a five-year period.
The reorganisation follows a period where Emas has frequently been placed among the worst in the country for response times.
'Concerns recognised'
Chief executive Phil Milligan said the move would help it improve patient care and staff conditions.
He said the increasing demands on the service meant that ambulances were very rarely based at the stations and were usually out on the road.
He said: "The changes we propose should see our response to immediately life-threatening 999 calls improve by about 5%.
"We know that East Midlands residents have been concerned about our response times. We now have a plan to deliver long term, sustainable performance."
Money raised from selling the old ambulance stations will pay for construction of the larger hubs.
These would be based in Chesterfield, Derby, Kings Mill, Nottingham, Kettering, Leicester, Loughborough, Northampton, Algarkirk, Elsham, Lincoln, Skegness and Sleaford.
Emas said the 131 tactical deployment points would allow the service to maintain a presence in all of its towns which currently had an ambulance station.
The union Unison said: "It is important that Emas considers the impact of these closures on staff welfare and the ability of staff to have breaks during the day, and just as important the extra travel time that will be involved at the beginning and ending of a shift."