Police commissioner candidate David Bowles to take on politicians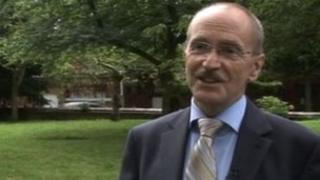 An independent candidate bidding to become police commissioner for Lincolnshire has said his aim is to keep "politics out of policing".
David Bowles, a former chief executive at the council and former chairman of the United Lincolnshire Hospitals Trust, has entered November's election.
Mr Bowles said "policing has been free of political control for 150 years", something he believes should continue.
Labour have selected Deeping St James councillor Phil Dilks to stand.
The Conservatives are yet to announce their candidate in Lincolnshire.
'Too important'
Commissioners will be elected in 41 areas across England and Wales and will have power over budgets, policing priorities and chief constables.
Mr Bowles said: "I don't think a politician with an allegiance to a party is going to be the right person to lead Lincolnshire's police force.
"I think it's important that we have a chief constable who can speak openly and honestly and doesn't fear his political masters.
"This role is too important to be tainted by political allegiances."
He said, if elected, his first priority would be to look at the funding of the force and work to ensure it is sustainable going forward.
Labour's candidate Mr Dilks called the elections "a daft idea", but said he was not prepared to stand aside and leave it to a Tory commissioner, "who would simply be a cheerleader for government cuts".
Voters will go to the polls on 15 November.