Government delays decision on aviation policy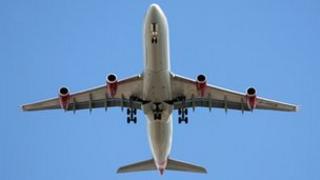 So, with baited breath we waited. Initially the government announced the aviation review, looking at options to increase airport capacity in the South East would be published in the Spring.
Then it was delayed for around five months until the summer.
I was told, by the Transport Secretary Justine Greening herself, she was ready to go and it would be published before the parliamentary summer recess.
Then, I was told by reliable sources it would be published this week - probably Thursday.
Well, the Department for Transport has published its Aviation Policy Framework today which includes some measures to increase capacity in the short term.
It includes the possibility of new rules to limit the use of smaller planes - in favour of larger ones - at the busiest airports.
UK's hub status
A statement from the Department for Transport also commits "up to £500 million" towards a western rail link to Heathrow which, it is claimed, will shave 30 minutes off train journey times to Heathrow from the west of England and south Wales.
But, despite increasing calls from business leaders, including Willie Walsh and Richard Branson, in recent weeks for the government to commit to plans to increase airport capacity and maintain the UK's hub status, we are no nearer knowing how that will be achieved.
Justine Greening says "A separate call for evidence on how to maintain the UK's international connectivity and hub status will follow later this year once the industry has had time to consider the measures in today's consultation."
I think industry leaders and residents in areas which would be affected by plans to build a new Thames Estuary airport, for example, or the building of new runways at existing sites, feel the time for consultation has passed and really just want a decision.
So, why is the government stalling on this?
U-turn?
Backbench MPs tell me that after the "omnishambles" over Lords reform in which the government suffered its biggest defeat to date the coalition is simply not up for another fight - this time over airports.
There are signs that senior Tories, including the Chancellor, are considering a U-turn over Heathrow and would be prepared to consider a third runway.
That is an absolute no-no for their Liberal Democrat colleagues.
The Prime Minister's spokesman today said: "We will get on with this. These are important long term decisions and we need to get them right.
"What today's announcement does is set out the context for the call for evidence."
He added: "It is important that we take decisions in the light of the evidence."
Of course, it's important to get these decisions right but making no decision at all can also be damaging to confidence in the UK's economy - and the government's reputation.