Morecambe Bay NHS trust admits patients' health hit by delays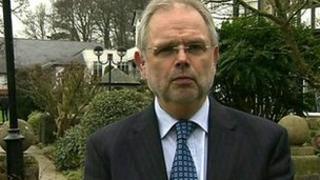 The health of more than 650 patients may have deteriorated because their hospital appointments were delayed, an NHS trust has said.
University Hospitals of Morecambe Bay NHS Foundation Trust said 19,000 outpatients had their follow-up appointments delayed.
It said 663 patients had suffered problems such as deterioration of their hearing or sight as a result.
The trust said all patients are now receiving the appropriate care.
It said all those affected by the delays had been written to and an extra 1,100 clinics had been provided to allow them to be seen as soon as possible.
Medical Director George Nasmyth said in most cases the effects were "relatively moderate".
'Matter of regret'
He said: "We cannot discuss individual cases but patients have been affected in a range of different ways by the delays. Temporary effects include delays in treating skin conditions like psoriasis which has led to patients suffering the distress caused by the conditions for longer than would otherwise have been the case.
"Longer term effects on patients include deterioration in hearing or sight.
"All these patients are now being treated appropriately.
"In most cases the deterioration in the condition of the patients involved was relatively moderate but any effect on patients is a matter of regret for this trust and the people who work here."
Sir David Henshaw, the interim chairman of the trust, said it was "unacceptable" that the delays occurred.
He said: "We want our hospitals to be among the best. That will not happen overnight. There is a lot to do to get us to that point.
"However, we have made a good start over the last few months and we are committed to making sure that the improvements that are needed are implemented as quickly and effectively as possible."
The trust, which runs the Furness and Westmorland General hospitals, the Royal Lancaster Infirmary and Queen Victoria Hospital in Morecambe, has already been ordered to make changes by health watchdogs.
Deaths at the baby unit at Furness General Hospital, in Barrow, are being investigated by police and health regulators have criticised standards at Royal Lancaster Infirmary's A&E unit.
It said it has prioritised changing the outpatients booking system to ensure these delays cannot happen again.