Eva Rausing: Life in profile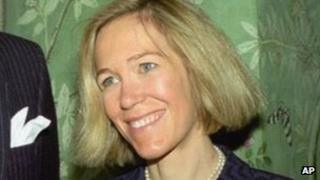 Eva Rausing, who has been found dead at a house in London, was part of the family behind the Tetra Pak drinks carton empire and one of the wealthiest women in the UK.
American-born Eva Kemeny, the daughter of Pepsi Cola executive and property developer Tom Kemeny, married Hans Kristian (Hans K) Rausing soon after they met at a US drugs rehabilitation clinic in the 1980s.
Her husband's Swedish father, also called Hans, was ranked this year as the 88th wealthiest man in the world, after selling his share of the £5.4bn packaging company to his brother in 1995.
The mother-of-four's body was found at an address in Cadogan Place, Belgravia.
She and her husband were arrested in April 2008 after Mrs Rausing was found with 10g of crack cocaine and 2.5g of heroin as she entered the US embassy in Grosvenor Square, central London.
Police also found 220mg of anti-anxiety drug diazepam in Mrs Rausing's car, and more than 50g of cocaine during a search of the couple's home.
Charity donations
Hans Kristian Rausing was charged with possessing Class A drugs and his wife was charged with possessing Class A and Class C drugs. Those charges were later dropped and the couple received a conditional caution.
Speaking at the time from the steps of her Belgravia home, Mrs Rausing told reporters: "I am very sorry for the upset I have caused. I have made a grave error, and consider myself to have taken a wrong turn in the course of my life."
Around the time of their arrest in 2008, Mr Rausing's parents and siblings issued a statement in which they said they were supporting the couple as they fought to overcome drug addiction.
It read: "The Rausing family are deeply saddened by Hans K's and Eva's situation.
"We hope with all our hearts that Hans K and Eva can overcome their addiction and we continue to do what we can to help."
The couple are said to have donated millions of pounds to charities over a number of years, including some involving drug awareness and addiction prevention.
Mrs Rausing was the UK patron of international drug abuse prevention charity Mentor , which lists the Queen of Sweden as a founder member.
The couple also provided financial backing to Action on Addiction . The charity helps young people with drink and drug problems.
Rausing dynasty
Founded in 1951 by Ruben Rausing in Lund, Sweden, Tetra Pak quickly grew into a global packing company.
Hans Rausing Senior was appointed managing director of the company in 1954. After decades at the helm, he sold his 50% share of the company to his brother Gad Rausing, who died in 2000.
In March 2012, Forbes magazine ranked Hans Rausing the 88th wealthiest man in the world, with an estimated wealth of $10bn (£6.5bn).
Hans Kristian Rausing is the only son of Hans Senior. His two sisters Lisbet and Sigrid Rausing both live in the UK and the trio of siblings are thought to have already inherited millions of pounds from their father.
Lisbet is vice president of global conservation charity Fauna and Flora International , and Sigrid is the publisher of Granta magazine, and co-founded of Portobello Books and Granta Books.
The Daily Telegraph has reported that Hans Kristian Rausing no longer has any involvement in the Tetra Pak business, and holds no other UK company directorships.