Petition on 'unfair' police funds in Avon and Somerset started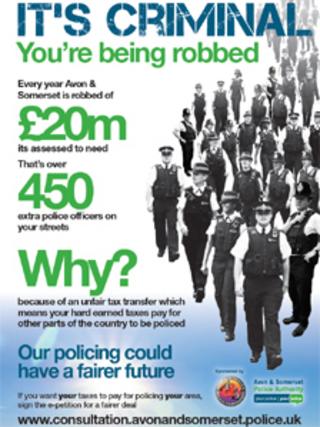 The police authority and police federation in Avon and Somerset have started an online petition to highlight what they call "unfair" funding.
They said £20m of essential local cash, equating to 450 officers, was being diverted to other parts of the country.
A police authority spokesman said it believed now was a time for change.
Police are losing a fifth of their central funding over four years. Two-thirds is made up of the government's police grant settlement.
A recent HM Inspectorate of Constabulary report said the cuts would see 5,800 fewer front-line officers across the 43 forces in England and Wales.
Official Home Office figures released in January showed that the number of police officers in England and Wales had fallen to its lowest level for a decade.
There were 135,838 police officers in September 2011 - 6,012 (4.2%) fewer compared to 141,850 a year earlier.
'Huge difference'
"This is about an unfair tax fund transfer, in which residents in this area are paying for other parts of the country to be policed," said Avon and Somerset Police Authority chairman Dr Peter Heffer.
"The government assesses that we need £20m to meet our needs but instead it is given away to other parts of the country with less need.
"This complex transfer of our taxes means that while areas like ours miss out, other police authorities are building up their cash reserves."
Avon and Somerset Police Federation chairman Kevin Phillips said local officers were angry about the situation, which "inhibits this force from being the best it can be".
"Twenty million pounds would pay for nearly 500 extra police officers every year; this would make a huge difference to this area," he added.
"Particularly because this is not about cuts, this is about using the money allocated for policing fairly.
"It is about giving it to those areas that need it and Avon and Somerset is deemed to need it by the government's own assessment."
Mr Phillips said he was "optimistic" that they could change the situation.
The petition is available online until 30 July.
When the petition has closed, Avon and Somerset Police Authority will write to the Home Office with the results and any further comments.