Southampton children's heart surgery unit saved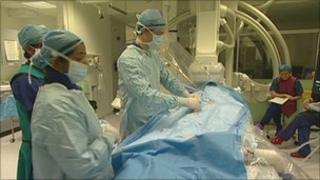 The future of children's heart surgery in Southampton has been saved after an NHS review recommended three other centres should close.
Almost a quarter of a million people signed a petition opposing the closure of the city's Ocean Ward at Southampton General Hospital.
Mothers with children who have been treated at the unit said they were "delighted" at the decision.
The Southampton unit takes in children from as far afield as Plymouth, Brighton, up to Salisbury, Exeter, Bath and across the south east coast.
Opponents of its closure had also said that were it to shut, patients on the Isle of Wight would have to travel even longer than the maximum three hours to a specialist unit which the review recommended.
Patients from Oxford's John Radcliffe Hospital have also been sent to Southampton for operations since it stopped doing such surgery.
Lisa Carr, whose eight year-old son Jacob has had extensive life-saving surgery at the unit after being born with a complex heart defect, said she was "delighted" at the decision.
Mrs Carr, 40, from Hedge End, said: "Without the unit Jacob would not be here. He is still receiving ongoing treatment.
"I was always quietly confident but it's still a huge relief.
"To take away the unit, which Jacob depends on for his safety, would have been devastating."
Sam Prior, from Locks Heath near Southampton, travelled to London for the public meeting as her 10-year-old son Aaron has had four major operations at the unit after being born with no left ventricle.
Mrs Prior said: "This means everything. We worked so hard with the campaign and it has all been worthwhile."
Southampton's Labour MP John Denham, praised the "excellent" campaign to save the unit, adding: "This decision reflects the fact that the children's heart unit in Southampton is rated as one of the best in the country."