Trains manifesto for East England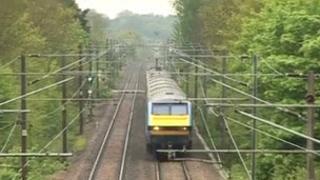 Trains will be modern and comfortable, punctuality rates will be at least 93%, it'll take an hour and a half to get from London to Norwich, and on the smallest branch lines there'll be speeds of at least 75 miles an hour.
No it's not a dream... that is the vision for rail travel in the east of England within the next 20 years.
It is contained in the long awaited regional rail manifesto, which has been drawn up by local politicians, business leaders and passenger groups.
And there's a lot of them - in total, 36 MPs, 28 local authorities, 21 rail user groups and nine business organisations from Norfolk, Suffolk, Essex and Cambridgeshire have put their names to the document called Once in a Generation.
"There's never been anything like this before," said Chloe Smith, the Norwich North MP, who has led the campaign.
"We're talking about improved journey times, a better, more reliable service and better quality carriages.
"These are the kinds of things that make it a much more pleasant journey but also show that we're a place where you can do business."
Getting on track
In all there are 31 aims contained in the document - measures that are "realistic and technically feasible", which the MPs believe will change the face of rail travel in the Eastern region.
They include:
•A three-five mile stretch of new track north of Chelmsford. It could cost up to £200 million but it would ease congestion on the busy Essex line.
•A remodelling of Bow junction near Liverpool Street station and a new stretch of track at Lea Valley to allow for faster and increased journeys between the capital and Cambridgeshire and Hertfordshire.
•Improvement of Ely North junction to allow more trains to run between Norwich, King's Lynn and Cambridge.
•The further development of the Felixstowe to Nuneaton freight route.
•The electrification of all branch lines.
•A fully connected East/West rail link.
•Increased capacity at Kings Cross and Liverpool Street stations.
•New rolling stock with WIFI and power sockets at every seat.
•Print-at-home ticketing for passengers
•Improved car parking at stations.
The document, which will be presented to the Transport Secretary, says that East Anglia is one of the fastest growing parts of the UK.
There are 360,000 more homes planned here.
New enterprise zones are opening in Harlow, Alconbury, and a joint one for Great Yarmouth and Lowestoft.
Rail investment
With 115 million rail passengers every year the network is already full to capacity at peak times and roads are often grid locked.
That needs to change says the document.
"Economic growth cannot be taken for granted," it says.
"A good rail network is integral to the economic success of the region."
"Investment in our rail infrastructure is not an optional luxury but an economic necessity."
"Historically the East has been under funded," says Elizabeth Truss, the MP for South West Norfolk.
"To have a manifesto signed by all the MPs sends a very powerful message."
Getting MPs from four different counties to sign up to the document was no mean feat.
MPs in Essex were suspicious that the whole campaign was being railroaded by Norfolk's MPs.
Delicate negotiations were taking place right up until the last minute.
"If you want to get big bucks into rail infrastructure you can't have 30 or 40 different campaign groups," says Witham's MP Priti Patel.
"We have to be absolutely united about what we want."
Lobbying lies ahead
The Transport Secretary Justine Greening is passionate about improving rail travel.
She recently told us that she admires the Victorians who were far-sighted enough to design a rail system that we're still using today.
She wants to do the same thing and is currently drawing up a list of projects to fund.
Those behind this manifesto hope for some early gains but they also know that it's going to be hard work persuading government and the industry to put up the money.
Years of lobbying lie ahead.