Memorial service for Labour peer Lord Ashley of Stoke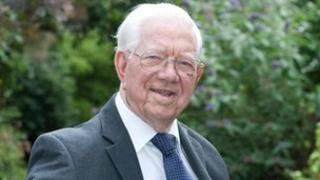 A memorial service has been held in London for disabled rights campaigner Lord Ashley of Stoke.
The former Labour MP for Stoke-on-Trent died in April aged 89, after a short battle with pneumonia.
As Jack Ashley he represented the city for 26 years from election in 1966 until he was made a Labour peer in 1992. Born in Widnes, he had previously worked as a BBC journalist.
The service was held at Assembly Hall at Church House, Dean's Yard.
In 1968, just two years after becoming an MP, he lost his hearing following an unsuccessful ear operation.
He prepared to resign his seat but after a crash-course in lip-reading was able to continue to serve in the House of Commons.