Danai Muhammadi jailed for killing family in Chatham fire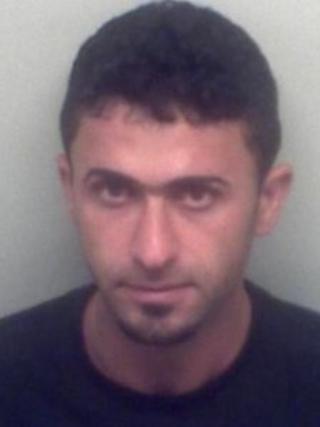 A man has been sentenced to life in prison for murdering his 15-month-old son, estranged wife and father-in-law.
Noah Crook, his mother Melissa, 20, and her father, Mark, died after 24-year-old Danai Muhammadi, from Coventry, set fire to their home in Chatham, Kent.
His friend Farhad Mahmud, 35, of Maidstone, was also sentenced to life in prison for the three murders.
Muhammadi must serve a minimum of 38 years and Mahmud must serve a minimum of 34 years.
Muhammadi's girlfriend Emma Smith, 22, from Coventry, who was convicted of manslaughter, was sentenced to 14 years.
The three were convicted in June after a trial at Maidstone Crown Court.
'Selfish wickedness'
Muhammadi and Mahmud were each found guilty of three counts of murder and two counts of attempted murder in relation to Ms Crook's mother Amanda, 50, and brother Bohdan, 22, who survived.
Smith, 22, was convicted of three counts of manslaughter but cleared of murder and attempted murder following a six-week trial.
Muhammadi set fire to the house in Chatham Hill just before 02:30 BST on 10 September.
Ms Crook's father, Mark, 49, was left critically ill with severe burns in hospital and died six days later.
Sentencing at Maidstone Crown Court, Judge Mr Justice Sweeney said: "It can truly be described as pure, selfish wickedness."
During the six-week trial, the court was told used-car salesman Muhammadi was filled with "spite, anger and resentment" when he and Mahmud squirted petrol through the letter box using a garden spray container following the breakdown of his relationship with Ms Crook.
The jury was told the location of the fire, at the bottom of the stairs, left no reasonable means of escape for the occupants of the house.
Prosecutors said unemployed Smith "encouraged and goaded" Muhammadi and exchanged hate-filled texts and online messages with Ms Crook before her death.
Addressing Muhammadi and Mahmud, Mr Justice Sweeney said that they had been convicted on "overwhelming" evidence.
"No-one who heard the evidence in this case will ever forget Mrs Crook's description of how, as he tried to escape, her husband became stuck in the bedroom window and how, unable to extricate himself, she had to stand and watch as his lower half was burned," she said.
The judge said that as Melissa Crook and Noah were trapped by the flames, their last moments must have been "of abject terror".
"It's no thanks to you two that Amanda Crook and Bohdan Crook escaped the fate that you intended for them.
"Each suffered significant injuries, the effects - whether physical or mental - they are still clearly suffering from today," he added.
The judge told Smith that although she was not the principal figure, she was a "joint perpetrator in the common venture to burn the house".
Like both Muhammadi and Mahmud, Smith had shown not "a spark of genuine remorse" for her actions, Mr Justice Sweeney added.
Det Ch Insp David Chewter, from the Kent and Essex Serious Crime Directorate, said it had been one of the most tragic cases he had dealt with in 24 years of policing.
"The sentences given today reflect the severity of the charges and I hope that the Crook family can now move on with their lives.
"They have been torn apart and will forever have to live with the consequences of the selfish actions of others."