Al Amin Dhalla jailed for stalking Dr Alison Hewitt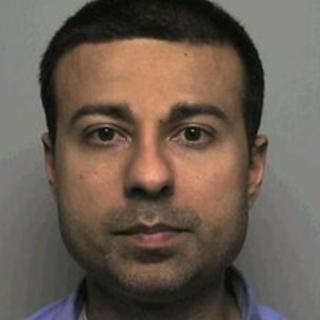 A former City auditor found guilty of orchestrating a campaign of harassment against his ex-girlfriend and her family has been jailed indefinitely.
Al Amin Dhalla, 42, was told he would serve a minimum of six years for the "deliberate and chilling" stalking of Dr Alison Hewitt, from Brighton.
At its height police also feared for the safety of her mother and stepfather from Buckinghamshire.
Dhalla was convicted of seven offences at Lewes Crown Court in February.
The court heard he moved in with Dr Hewitt in Brighton, East Sussex, months after meeting her through an elite online dating agency aimed at professionals.
Assaulted uncle
Their relationship soured after her family voiced concern over his "unseemly haste" to marry her and lies they uncovered about his past.
The couple split after a year, triggering a four-month stalking campaign by Dhalla during which he tried to burn down the home of Dr Hewitt's mother and stepfather and hired a private investigator to snoop on her.
At the height of the harassment, police airlifted Dr Hewitt's mother, Pamela Hewitt, and stepfather, David Gray, from their holiday home on Lundy Island off the Devon coast amid fears for their safety.
Dhalla, a Canadian, came to Britain in 2009 but security checks required because Mr Gray worked in the defence systems industry uncovered Dhalla had been convicted in Canada for assaulting his uncle with a weapon.
The lies led to him being suspended from his job in December 2010.
Dhalla was found guilty of arson being reckless as to whether life is endangered, attempted arson, harassment of Dr Hewitt and her mother, theft, damaging property, having an offensive weapon and perverting the course of justice.
Drink and drugs
Jailing him, Judge Charles Kemp said: "You showed a deliberate and chilling degree of organisation and planning.
"You have tried to put the blame on drink and drugs that you were consuming at the time. That is no excuse."
Dhalla faces deportation to Canada when he is released.
Following sentencing, Mr Gray said: "This case has served, yet again, to illustrate the deficiencies in our current border controls.
"Mr Dhalla should never have been let in to this country.
"On discovering his violent criminal record in his native Canada, we informed the Home Office and the Border Agency of the threat he posed to us.
"They ignored our pleas for help, and he went on to commit very serious crimes."
"Even now the UK has no effective way of ensuring Mr Dhalla does not return after deportation and we are therefore in fear of our future safety."
A spokesman for the UK Border Agency said: "This was a terrible case and this individual is now in jail where he belongs.
"We believe all foreign criminals should be removed from the UK and we will seek to deport Mr Dhalla at the earliest opportunity."