Could the Queen's seeds grow in your garden?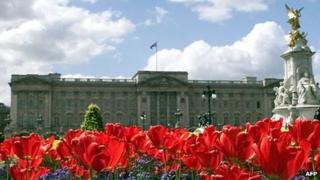 Seeds from plants, trees and flowers growing in the Buckingham Palace garden are available for people to take home for the first time at the Hampton Court Palace Flower Show. But is it possible to recreate a mini royal garden on your own patch of land?
"One of the sights of the [palace] garden at this time of the year is an avenue of Indian Chestnut trees in full flower," said Mark Lane, Buckingham Palace garden manager.
Covering 40 acres, the royal garden is home to 350 varieties of wild flowers, a national collection of mulberry trees, a rose garden and a lake complete with birds nesting along the water's edge.
The garden "reflects an English landscape style with rolling lawns, specially planted copses and individual specimen trees", Mr Lane told the BBC.
But the full layout remains, for the most part, private. It was only in 2009 that limited tour groups were first allowed in to view the garden in its entirety.
Now 11 varieties of its seeds - including acer trees, shrubs, poppies (Papaver spicatum) and upright ginger (Saruma henryi) - will be available at Plant Heritage's Seed Shop at Hampton Court Flower Show, which runs until Sunday, in exchange for a minimum £1 donation to the charity.
Now in its fifth year, the shop offers hundreds of seeds gathered from around the UK, including from notable gardens and rare and exotic plant collections.
But with most of us making do with gardening space that is a tiny fraction of the 40 acres at Buckingham Palace, how easy is it to grow the same plants that thrive in the royal garden?
"People could copy [the garden], yes definitely," said Janet Wright, who runs the plant conservation charity's seed shop.
Even in smaller gardens, it is possible to "copy some of the plant combinations and the perennials that are growing there", she added.
"Some [of the seeds] are quite specialist and some of them are fairly commonplace, like the poppy, but then a lot of people just like to have a plant and say that it's come through from Buckingham Palace."
Mr Lane, who selected the palace seeds for Plant Heritage, acknowledged that some of the plants were "more difficult to propagate than others".
The palace's poppy (Papaver spicatum) "with its luminous orange flowers and furry leaves" is expected to be a popular variety, but Mr Lane recommended the Desmodium elegans for budding royal gardeners.
"I think it has a lot going for it, especially its unusual seed heads," he added.
But those hoping to get their hands on a seed from one of the garden's most notable features, its national collection of mulberry trees, will have to wait.
These are not included in the palace collection.
Also not on the list - and also tricky to copy in a back garden - is the palace's famous rose garden, which is a key feature during the summer.
The garden's "long herbaceous border" is another stand-out plant during the season, said Mr Lane. But at 156m (511ft) long, it is not one likely to be recreated on the edge of many lawns.
Nevertheless, the palace collection is expected to be among the favourites for budding gardeners visiting the seed shop.
"I'm sure they'll be popular in the Jubilee year because a lot of people come from overseas," said Ms Wright. "They obviously can't take plants home but they're allowed to take seeds."
As well as belonging to one of the most famous homes in England, the garden at Buckingham Palace seems to represent the type of quintessential British garden that remains popular across the country.
It is the nice lawns, neat borders and variety of plants that British people are "fanatical" about, said John Webster, curator at RHS Garden Rosemoor in Devon, which has also provided some of its seeds to the charity.
"With our climate we can obviously grow plants from all round the world, either as hardy subjects or just for use during summer bedding," he said.
The UK's temperate climate allows gardeners this variety, ranging from shrubs and heather to exotic, sub-tropical varieties of plants and flowers.
And this ability to grow almost anything makes horticulture very much a part of British identity, said German-born Wolfgang Stuppy, seed morphologist at Kew's Millennium Seed Bank project, which aims to collect and conserve 25% of the world's seeds by 2020.
"In the UK it's very, very different from gardening on the Continent," he said.
"Because the climate is so mild you can just plant amazing things that you would never dare to plant outside in Germany, for example, and France.
"Gardening is definitely a huge thing in Britain… I think you can create more exciting gardens because you can grow many things from all over the world."