Watford striker Troy Deeney jailed for students attack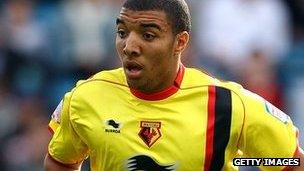 A Championship footballer who attacked a group of students in Birmingham has been jailed for 10 months.
Watford FC striker Troy Deeney, 23, was recorded by CCTV cameras kicking one of the victims in the head.
One man suffered a broken jaw and another required 20 stitches as a result of the brawl in Broad Street.
Deeney, of Chelmsley Wood, Solihull, admitted affray and was sentenced along with three other men at Birmingham Crown Court.
They included Deeney's younger brother Ellis, 21, of Polar Avenue, Chelmsley Wood; Oliver Brennan, 20, from Hazel Croft, Chelmsley Wood; and 26-year-old Marc Williams, of Stonebridge Crescent in Kingshurst.
They had all pleaded guilty to affray.
Judge David Tomlinson said CCTV footage of the attack, which happened close to the Bliss nightclub on 29 February, showed the roles of Troy Deeney and Brennan were more serious than the other defendants.
In the 30-second video clip, the pair could be seen kicking out at the "defenceless" students, one of whom received repeated blows to the head as he lay injured on the ground.
The judge told the defendants: "Three men in particular were singled out for what can only be described as a gratuitous beating.
"All four of you to a greater or lesser degree joined in but the effect of it was that these three men, who were already heavily outnumbered, became even more so as a result of what you all did.
"At least one kicked a man while he was already on the ground and very probably had already suffered a really serious injury."
Prosecutor David Lees said one student, who had suffered a broken jaw, might require plastic surgery because of the scars on his face and continued to suffer from flashbacks.
Brennan was handed an eight-month sentence in a young offenders institution.
Williams and Ellis Deeney were given eight-month prison sentences, suspended for 18 months.
Troy Deeney, who was released by Aston Villa as a youngster, joined Watford from Walsall in August 2010 for an initial fee of £500,000.
In March he was given a 12-month extension to his contract and finished last season with 12 goals.
Watford FC said in a statement it was aware of the forward's sentence and would issue a full statement in "the next few days".
Related Internet Links
The BBC is not responsible for the content of external sites.