Green waste: More councils charge for collections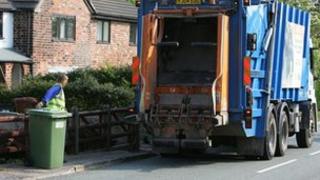 Almost a third of councils across England charge to collect garden waste, research by the BBC has found.
Where you live depends on how much you pay with some people paying nearly £70 a year to have a green bin.
Many councils the BBC spoke to said they had introduced charges to raise additional funds after central government budget cuts.
And the chair of a waste advisory body said more councils are considering charging for the service.
Joy Blizzard, from the Local Authority Recycling Advisory Committee (LARAC), said councils faced a "difficult financial climate" where they had to make choices about which services to keep.
Planning to charge
Many councils that have introduced a charge said they have had to cut costs to cope with a reduction in government funding.
South Kesteven District Council (SKDC), in Lincolnshire, charges £25 a year for a green bin collection.
In a statement the council said: "This will help offset the operational costs of the service and effectively means that those who use the service will contribute towards it."
Of 254 councils that the BBC contacted 176 do not currently charge to collect green waste although one of these has begun to roll-out a charge and another, Boston Borough Council , in Lincolnshire, is planning to introduce a one-off charge of £20 for a bin which can be used to dispose of green waste.
Seventy-five of those contacted do charge and three do not offer a collection service although one, Bassetlaw District Council, in Nottinghamshire, is considering introducing a paid scheme.
The highest fee found was £69 a year for a green wheelie bin in Kingston upon Thames, in London.
A £60 annual fee introduced in Wokingham, in Berkshire, in April is currently being reviewed by the borough council after the authority received 1,000 complaints.
Sheffield, in South Yorkshire, charges £57.60 for an annual green bin collection.
Backlash against charges
The " taxation through the back door " was condemned by the Taxpayers Alliance and the local Lib Dem party when it was introduced.
In Kirklees, in West Yorkshire, a local pensioners' group criticised the introduction of garden waste charges claiming elderly people without access to a car would struggle to take their waste to the tip.
In London, Merton Council faced a similar backlash after introducing an annual charge of £65, while in Ealing more than 5,000 residents signed a petition over a £40 annual levy.
But according to Ms Blizzard even a small garden can accommodate a compost heap.
She said: "Composting is the most environmentally friendly way to get rid of green waste.
"It is better than running a fleet of vehicles to collect it and sticking it in landfill.
"It often comes down to a choice for councils - do you keep an old people's home open, spend money on meals on wheels or collect green waste for free?"
When Rushcliffe Borough Council, in Nottinghamshire, introduced green waste charges of £25 a year, it said it was a way to raise additional income.
Other money raising measures, including introducing car parking charges and raising council tax were dismissed but grants to community sports programmes were reduced and charges increased for home alarms.
Subsidising garden owners
Ms Blizzard added if people lived in homes without gardens they were subsidising the cost of green waste collections for those with gardens.
"There is an argument out there that if you have a big garden, which produces a lot of green waste it's your responsibility" she said.
Aylesbury Vale District Council, in Buckinghamshire, has begun to roll out a charge of £36 a year for a new garden waste collection service.
The council said: "Having carefully reviewed our service, we cannot offer the garden waste service without a fee, because it would dramatically increase our costs.
"We think that it's better to offer a paid-for service to those residents who want it and are prepared to pay for it, rather than charge everyone for a service they may not use."
Across England charges for green waste varied widely:
In Cambridgeshire no councils charge for green waste collection;
In Suffolk two of the seven councils - Mid Suffolk District Council and Babergh District Council - charge £40 a year to collect garden waste;
In the west of England 12 of 17 councils charge, with fees varying from £26 to £45 annually;
Manchester and Liverpool city councils and Lancashire County Council do not charge;
Cornwall Council charges, as does Exeter City Council, Torbay Council and Teignbridge Council but Plymouth, North Devon and South Hams councils do not;
In the Yorkshire and Humber region 20 of 22 councils do not charge;
In Bedfordshire, Buckinghamshire and Hertfordshire 17 of 18 councils the BBC spoke to do not charge although one is currently rolling out charges;
Across the North East, Cumbria and Cheshire 18 councils do not charge and four do;
In the West Midlands two of 25 councils charge;
In Hampshire, Dorset, Berkshire and Oxfordshire, 23 councils charge, eight do not and one does not offer a green waste service;
In the East Midlands, of those councils that responded, one council is planning to introduce a charge, nine charge already, one does not offer the service and 18 do not charge;
In London, 25 local authorities do not charge and eight do;
In Northamptonshire, of the four councils that responded, one charges and three do not;
In Norfolk, all seven councils charge.
Separate research by the Association for Public Service Excellence (APSE), which advises councils across the UK on service provision, found around a quarter of UK councils charged for green waste collections.
Of 109 responses collected earlier this year the number charging for green waste collections was 26.7%, with 4.7% planning to introduce a charge in the next one to two years.