Wind turbines: Vestas scraps Isle of Sheppey plan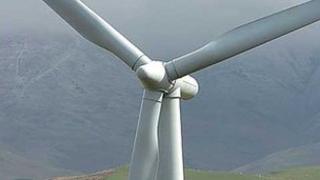 Plans to create 2,000 jobs in one of the most deprived areas of the south east have been abandoned.
Danish company Vestas has scrapped its plan to manufacture wind turbines at a huge new plant on the Isle of Sheppey, saying it hadn't secured enough orders to go ahead.
The news has been met with dismay on the island, where unemployment is more than twice the national average.
There's no doubt it's a blow. Despite the fact this government describes itself as the greenest government ever, the mood music has changed in recent months.
It emerged earlier this month that Chancellor George Osborne would like to cut subsidies for onshore wind farms by 25%.
Industry leaders warned that level of reduction would "kill dead" the development of wind power sites.
Only yesterday Energy Secretary Ed Davey, who is a Liberal Democrat, defended the amount of subsidy put into renewables.
Investor confidence
One thing companies making large investments hate is uncertainty. Flip-flopping on policy is the best way to lose investment and undermine investor confidence.
Given that, I think the Vestas' announcement today is unsurprising.
It made it very clear back in August that without subsidies from the government it would not be building the site which would have seen nearly 2,000 jobs created in Sheppey.
Even the Conservative MP for South Thanet, Laura Sandys, a member of the Energy and Climate Change Committee, has criticised the government.
She said: "Vestas' decision will have been a commercial one; but it also suggests a lack of confidence within the industry over the government's commitment to the green economy and crucially, offshore wind."
She added: "The market needs certainty from government if it is to deliver the thousands of jobs and billions of pounds of investment that could secure our economic recovery."
If the government doesn't firm up its policy on subsidies, soon maybe the last renewable energy company in Britain won't have to put the lights out.
It'll already be dark.