Sussex university tutor Luke Cooper in protest payout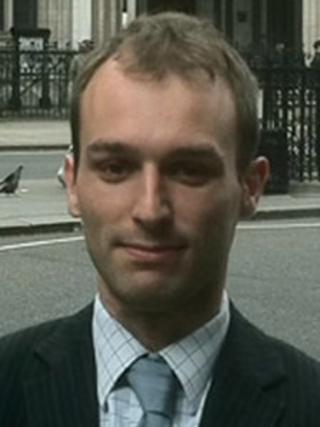 A University of Sussex tutor has won libel damages over newspaper stories linking him to violence during an anti-education cuts protest in London.
Luke Cooper, 27, was awarded £60,000 by the High Court after he said his reputation had been "badly trashed".
During the student march in November 2010, protesters broke into Millbank Tower causing damage and engaging in a four-hour standoff with police.
Evening Standard Ltd and Associated Newspapers both denied libel.
Mr Cooper, who is completing a PhD in international relations at the University of Sussex, told a High Court jury and Mr Justice Eady that his reputation was "as badly trashed" as the Millbank Tower, which is the Conservative Party's headquarters.
The stories led to him facing university disciplinary proceedings, which were dismissed.
After a five-day trial, the assistant tutor was awarded £35,000 over a front page Evening Standard article, which appeared the day after the demonstration, and £25,000 in relation to a follow-up in the Daily Mail.
Mr Cooper, from Brighton, and a member of socialist youth organisation Revolution, said the first story suggested he was a ringleader who planned with others to hijack a peaceful march.
He said the second article portrayed him as one of the "hard core" who organised the riot.
He told the court that an accompanying "out-of-context" picture, taken from a photo sharing website and showing him in a pub a couple of years earlier, was chosen to give the impression of a man grinning at the havoc wreaked.
Evening Standard Ltd and Associated Newspapers, who were ordered to pay the damages within 14 days plus £450,000 towards costs within 28 days, had denied libel and said their allegations were substantially true.
During the libel trial, Mr Cooper said he had known there were plans for some form of protest on the 50,000-strong march, but he was not involved in the planning or the violence.
He said he had willingly spoken to the Evening Standard journalist, Benedict Moore-Bridger, while handing out Revolution fanzines at the back of the crowd, but that some of his words had been inaccurately reported or omitted.
His counsel, William McCormick QC, said the newspapers had wanted to "tar everyone with the same brush", and it had been an "open secret" that there would be direct action.
There was no evidence that Mr Cooper, an advocate of peaceful protest, was involved in any way as a ringleader - either in advance or on the day, he said.
Mr Moore-Bridger denied falsifying Mr Cooper's answers to get the story he wanted to run or having a political agenda.
Speaking after the unanimous verdicts in his favour, Mr Cooper said: "My only wish throughout these proceedings was the public repudiation of the core allegation made against me after the Millbank occupation.
"Today's verdict is an important vindication for me personally and means I can draw a line under the affair.
"The jury's verdict demonstrates they saw through the falsehoods both papers peddled about me and the anti-cuts movement which continued right up until yesterday."