New public exhibitions for Yorkshire carbon dioxide pipe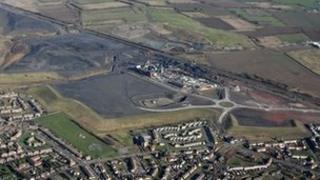 More details of plans for transporting carbon dioxide across Yorkshire to the North Sea will be given in a series of public exhibitions this summer.
The plan, by National Grid, would transport the gas underground from major power stations to the east coast.
It will then be stored in natural porous rock beneath the seabed.
Details, including the amount of above ground infrastructure, will be given at seven locations along the 40 mile (64km) preferred route.
'Ideal location'
National Grid believes the project, known as carbon capture, transportation and storage (CCS), has the potential to reduce CO2 emissions from power stations across Yorkshire and the Humber by up to 90%.
Russell Cooper, National Grid's CCS design manager, said: "The region is an ideal location for a CCS project due to its high concentration of power stations and large industrial plants that release a large amount of carbon dioxide.
"Most of these facilities are located relatively close together and so could potentially be connected to a single CCS pipeline network, capturing tens of millions of tonnes of carbon dioxide each year."
The proposed pipeline would run from Stainforth in South Yorkshire to Barmston in East Yorkshire.
It could transport liquid carbon dioxide from both the proposed Don Valley Power Project at Hatfield, near Doncaster, and the White Rose CCS project at Drax Power Station in North Yorkshire.
The exhibitions will take place throughout June and Mr Cooper said they would be an opportunity for communities across the region to comment on the plans.