Former MP Paddy Tipping Labour police commissioner candidate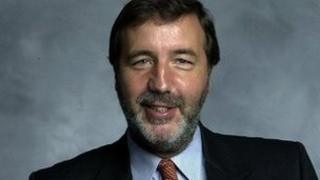 Former MP Paddy Tipping has been named as Labour's candidate to stand as Nottinghamshire's first directly-elected police commissioner.
Mr Tipping, who became MP for Sherwood in 1992, stood down in 2010 after suffering a mild heart attack.
Alan Charles has been named as Derbyshire's candidate and councillor Sarah Russell will represent Labour in Leicestershire.
In Lincolnshire, Deeping St James councillor Phil Dilks has been chosen.
The commissioners will have the power to choose chief constables and will be expected to hold officers to account.
They will also be tasked with developing strategies to cut crime and deliver an effective and efficient police service.
Mr Tipping said it was his aim to become "a people's commissioner - not a police commissioner".
He said: "I won't take a partisan or party political view.
"I'll be listening to people's concerns and taking action to meet the obvious desires that we all have for safer homes communities and streets."
In Lincolnshire, Mr Dilks called the elections "a daft idea", but said he was not prepared to stand aside and leave it to a Tory commissioner, "who would simply be a cheer leader for government cuts".
Mr Dilks said it was wrong to be spending £100m of taxpayers money at a time when government were cutting 16,000 police officers from the streets.
"We need somebody to stand up for Lincolnshire against the cuts," he said.
Voters will go to the polls to elect commissioners in each of the 41 force areas in England and Wales on 15 November.