Football League's advertising deal with Wonga ends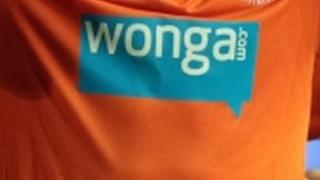 Payday lender Wonga will no longer advertise on Football League club websites after its deal ended.
A spokesman for the league said it was not seeking to renew the deal and had signed a new contract with Capital One.
It comes before fans were due to vote on a motion calling for the lender's adverts to be pulled from club sites.
Wonga said it remained committed to its Blackpool and Hearts sponsorships and would continue to assess deals for next season.
The motion, which was due to be heard at the Football Supporters' Federation's (FSF) AGM, asked the Football League not to renew its website contract with Wonga unless a cap on the cost of credit and tighter regulation was introduced.
Debt collection
A spokesman for the league said the decision was not down to the motion but was as a result of the new sponsorship deal.
He said the adverts would be removed from all club sites over the next few days.
A spokesperson for Wonga said: "We had a small advertising deal with the Football League which ended at the end of the 2011/2012 football season. We will continue to assess all opportunities and sponsorship deals for next season."
In May, Wonga was criticised by the Office of Fair Trading (OFT) for using aggressive and misleading debt collection methods.
The firm said the misleading behaviour was isolated and took place a long time ago.
The "Red Card for Wonga" campaign was being led by football fans and Labour MP Stella Creasy.
Ms Creasy said the company's adverts appeared on about 75 out of the 85 clubs which use the Football League Interactive website "platform".
She said other companies also targeted football grounds, with the Money Shop sponsoring a stand at Nottingham Forest.
Wonga is also the main sponsor of Championship club Blackpool.
She said: "Whilst the UK government refuses to tackle legal loan sharking, that doesn't mean we can't do anything to check their behaviour.
"This campaign is calling on football to show leadership on this issue and reject these adverts from their websites and grounds until this industry is better regulated."
The FSF's AGM will take place on 7 July in London.
'Terrific news'
The motion states: "Wonga clearly sees the demographic profile of football supporters as a profitable market to be exploited.
"Fans' Parliament 2012 calls upon the Football League, through its FLI subsidiary, to refrain from renewing any website advertising contract with Wonga.com until such time as there is tighter regulation of the short-term loans industry in the UK and a cap on interest rates that can be charged."
Northampton Town supporter Bob Ward proposed the motion.
He said the announcement by the Football League was "terrific news".
Mr Ward added the motion would probably now be used as a discussion point during the meeting.
"Some people have said if we ban payday loan companies adverts what about alcohol, tobacco and gambling but the difference is all those industries are regulated around how where and to whom they can advertise," he said.
"One in eight visitors to Football League websites are under-18 so these adverts are reaching children."
The advertising deal with Wonga was sold by Football League Interactive across the entire Football League Interactive network of club sites.
More debt help
The campaign is also calling on fans to write to David Bernstein, the chair of the Football Association (FA), asking him to back the campaign.
In addition they are asking the FA to extend a ban on alcohol and tobacco advertising and merchandise aimed at fans under the age of 18 to include payday lenders.
In February the OFT said payday lenders, who offer short-term, high interest loans to consumers, would be investigated amid concerns that they have been pushing loans to people who cannot afford to repay them.
The results of the investigation are expected later this year.
Business Minister Norman Lamb announced last month that the trade bodies that represent payday lenders had agreed to offer more help for debtors.
The commitments include lenders agreeing to freeze charges and interest for borrowers in difficulty, no later than 60 days after they stop making payments.