Lord Prescott aims for Humberside police job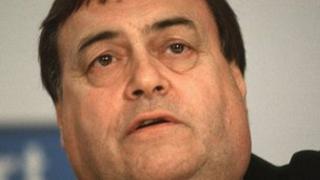 Former Deputy Prime Minister John Prescott will be the Labour Party's candidate for the role of Police Commissioner of the Humberside force.
In West Yorkshire, the chairman of the county's police authority, Mark Burns-Williamson, will contest the role.
In South Yorkshire a former mayor of Rotherham, Shaun Wright, will vie for the role and York councillor Ruth Potter is nominated in North Yorkshire.
Other political parties have yet to announce their candidates.
Lord Prescott, 74, stood down as an MP in 2010 after representing Hull East since 1970.
'Good news'
His bid for the job at the Humberside force comes almost two years after he entered the House of Lords as a life peer with the title Baron Prescott, of Kingston upon Hull in the County of East Yorkshire.
After the announcement that he was going for the post, George McManus, Chairman of Beverley and Holderness Labour Party, said: "This is good news for the Labour Party and good news for the people of Humberside.
"We now have a candidate in place who will lead the fight in what will be a very difficult election."
Lord Prescott went on to Twitter to thank supporters for his nomination.
He tweeted: "Thanks for all the kind tweets and emails on my selection. Really sweet of you all."
Police and Crime Commissioners will be tasked with cutting crime and delivering an effective and efficient police service within their force area.
The Home Office said the new role will provide "stronger and more transparent accountability" to the police and make forces answerable to the communities they serve.