South East fishermen welcome fish discard ban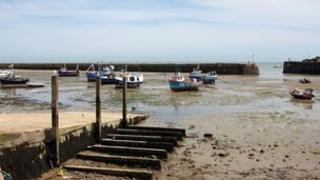 Fishermen in the South East have welcomed a commitment by the European Union to ban throwing dead fish back into the sea because they exceed fishermen's quotas.
Under the new agreement, discards of mackerel and herring would be banned by 2014.
A phased ban on discarding cod, haddock, plaice and sole would be in operation by 2018.
The EU says it's committed to ending over-fishing in three years.
End of the line
So, how significant is this agreement?
Well, reaching any agreement between 27 member states with competing interests which pit the huge Spanish fleets against the small inshore ones, as seen in places like Hastings, is quite an achievement.
There has been huge pressure to end the issue of discards.
The agreement follows a high-profile campaign, led by the celebrity chef Hugh Fearnley Whittingstall, to end the practise of discards.
This is where fish are thrown back into the sea because boats don't have enough quota to allow them to land them.
The UK Fisheries Minister Richard Benyon who was at the talks into the early hours of this morning welcomed the decision.
He said: "After years of pressing to eliminate discards it was always my aim to get the council to agree to end this wasteful practice as soon as possible."
Sustainable fishing
Amber Rudd, the MP for Hastings and Rye, which has the largest beach-launched fishing fleet in the UK, also welcomed the move.
She says the most significant thing to come out of the agreement is greater regional control which will be better for the smaller fleets.
Until now she says: "We've had a situation where mesh size for Hastings' fishermen has been decided in Brussels - that's absolutely absurd.
"We've been campaigning for a much more regional decision to how the quotas are allocated and it looks today like we're going to get that."
But, it's not a magic bullet.
No firm date was set for the ban, although the council has published a provisional date to ban the discarding of fish such as mackerel and herring by 1 January, 2014.
Critics say any agreement is "worthless without ambitious binding targets".
Greenpeace and Green politicians have accused politicians of being reckless with fish stocks and say what is needed is action for a sustainable fishery.