Woundcare 4 Heroes is a 'voice' for combat wounded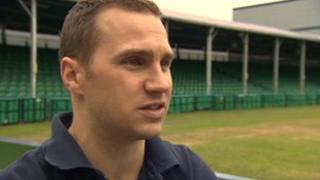 "It will be a voice for us, which is what we need, someone that's willing to say, 'this isn't good enough' and 'this needs changing'."
James Fletcher, aged 32, from Chepstow, Wales, lost most of the thigh muscle in his right leg and a significant amount in his left leg after being injured by a grenade in Afghanistan in 2007.
He was talking at the launch of a new West Midlands-based charity called Woundcare 4 Heroes. Its aim is to provide specialist wound care to former members of the military.
Mr Fletcher, who was medically discharged from 40 Commando Royal Marines in September, said: "At the time my injuries hadn't been dealt with before and the treatment I received was disappointing.
"This charity is looking to bring the knowledge and expertise that's lacking in the NHS, which will be important because a lot of servicemen and women don't like to complain.
"Our attitude is to just get on with the job and deal with the situation. They'll help themselves rather than be a burden or hindrance to staff."
'Put up with it'
The charity's business development director, Graeme Cooper from Kidderminster in Worcestershire, said it had taken a while for the "gap" between military and NHS wound care to be recognised.
Mr Cooper said: "We've spoken to people who've travelled all the way from Kent to the Queen Elizabeth Hospital (QE) in Birmingham just to get a dressing changed, but they accept it and they just put up with it.
"The NHS is already very stretched and these types of injuries are unique to the armed forces. They're blast-type injuries and severe burns that tend to be in relatively fit young men and women.
"Trauma care in the UK is not something we do particularly well. We don't have trauma centres like the Americans have, and that's not belittling the NHS in any way."
The Department of Health welcomed the support offered by Woundcare 4 Heroes, and agreed the type of wounding suffered in war could be very different from those in civilian life.
A spokesperson said: "We work closely with the Ministry of Defence, NHS, armed forces networks and service charities to make sure those wounded whilst serving their country continue to get the right care they need once they leave the armed forces.
"Much of the wound care received by those still serving will be provided by the NHS."
The charity's founder and chief executive, Claire Stephens from Bromsgrove, Worcestershire, worked at the QE for 17 years before serving as a nursing officer captain of The Queen Alexandra's Royal Army Nursing Corps.
She was then injured in Afghanistan and medically discharged last year.
Ms Stephens said: "I have the benefit of working in the NHS and during my rehabilitation I was exposed to the gaps that exist.
"When people are cared for within the military they're in a very secure and contained bubble, and the care at Royal Centre for Defence Medicine in Birmingham is second to none.
"But the problems start to arise when people are cascaded out of the military."
A spokesman for the charity Afghan Heroes said there were up to 4,000 wounded former servicemen and women in the UK.
Mr Cooper said: "A lot of my colleagues injured in the Falklands are still trying to access the right kind of care.
"Had they received better care along the way, their lives may have been very different."