Prince William thanks Queen for 'love and devotion'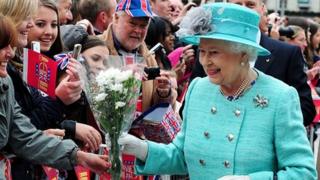 Prince William has thanked the Queen for her "extraordinary love and devotion", during a Diamond Jubilee visit to Nottingham.
He was addressing an audience at Vernon Park in Basford after the monarch had unveiled a plaque conferring Queen Elizabeth II Fields in Trust status.
The visit took place on a day during which the Queen has been greeted in the East Midlands by thousands of people.
The Queen has also been to Stamford and Corby.
The royal party started the day in Nottingham shortly after 10:00 BST.
The Queen, who travelled to the city by train, was met by Prince William and Catherine.
The Duke of Edinburgh, who is recovering from a bladder infection, was not present.
Crowds gathered at the Old Market Square in the city, where the Queen made an appearance on the balcony of the Council House.
The royal party then travelled to Vernon Park, where the prince made his official jubilee tribute.
He said: "The occasion presents the perfect opportunity for me, through my patronage of the Queen Elizabeth II Fields, to pay tribute to the Queen on her Diamond Jubilee.
"On behalf of Fields in Trust, thank you so much Your Majesty and the Duke of Edinburgh for everything you have done throughout your reign to protect these vital outdoor places for the nation.
"How grateful we are for the extraordinary love and devotion you have shown to the people of this country and the Commonwealth."
'Very scared'
The Queen's Diamond Jubilee tour then continued to Burghley House, near Stamford, in Lincolnshire, while the Duke and Duchess of Cambridge stayed to talk to the crowds.
About 10,000 people joined the Queen for a picnic. They were mainly from voluntary groups in Lincolnshire, Cambridgeshire, Rutland and Northamptonshire.
The Queen planted a tree near one Queen Victoria planted for her Diamond Jubilee and signed the Stamford visitors' book.
The Queen finished the trip in Corby, Northamptonshire.
She arrived at the Corby East Midlands International Pool at 15:00 BST, where she watched diving and snorkelling displays.
The Queen met Caitlin McClatchey, a member of the Team GB Olympic swimming team.
Ms McClatchey said: "It's really nice that we can all really be part of one country now, as we will be in the summer, and that everyone can be here for the Queen.
"She's been a figurehead of this country for 60 years and I feel so honoured and privileged to have been able to meet her."
The Queen then travelled to The Cube to unveil a commemorative plaque and watch local musicians.
Entertainment was provided by Scottish and Irish dancers and a pipe band to celebrate Corby's roots.
Aimee Burlington, 16, was among three youngsters who presented the Queen with a posy.
The teenager said: "She's a really lovely woman. I was very, very scared but it was great."