Devon MP Ben Bradshaw says dementia not properly diagnosed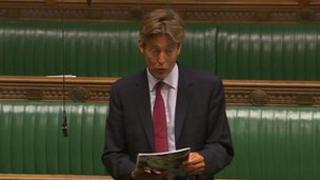 People with dementia in south-west England are not being properly diagnosed until it is too late, a Devon MP has said.
During a House of Commons debate, Exeter's Labour MP, Ben Bradshaw, said the region had the lowest formal diagnosis rates in England.
He added that, in Devon, only a third of patients were correctly diagnosed.
The government said that improving dementia services and treatment remained a priority.
Society issue
Mr Bradshaw, whose mother had the disease, said: "Given that the south-west has a higher proportion of elderly people, and therefore more dementia sufferers, this must be extremely worrying.
"According to the minister's own figures, there are nearly 9,000 people in Devon who have not being diagnosed."
Care Services Minister Paul Burstow said there had been "significant signs of progress" in tackling dementia.
"There is evidence of a lot of hard work being done by the NHS, leading to significant increases in diagnosis rates," he said.
But he added that, with an ageing population, it was one of the biggest issues society faced.
Following the debate, Mr Burstow said the government launched a dementia challenge in March.
"It includes ambitious plans to increase diagnosis rates and provide better services for people with dementia," he said.
He added that funding into research on dementia was being doubled.
The Alzheimer's Society estimates there are 45,000 people in Cornwall, Devon, Dorset and Somerset with dementia, including those without a diagnosis.
Across the UK, the diagnosis rate is 43.3%, according to the society. But Dorset has the worst record in the country for diagnosing the condition, it said.
Figures from the society said that, of 176 health service areas in the UK, just 27% of people with the condition were diagnosed in the NHS Dorset area.
In Devon, it is under 32.6%.
Both NHS Dorset and NHS Devon said diagnosis levels and referrals had gone up recently.
New measures had also been introduced, including programmes of dementia training for health centre staff, and more specialist support to help GPs identify the condition, they added.
In Dorset, a new countywide memory assessment service has also been introduced.