Flood and heavy rain warnings for England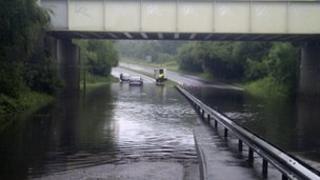 Severe weather warnings and flood alerts are in place across England as residents begin to assess the damage caused to their homes by flooding.
The Met Office has forecast heavy rain for the East, South West and South East of England including London.
In England 38 flood alerts and two flood warnings have been issued by the Environment Agency.
Across the country homes, roads and a hospital have all been flooded and train services affected.
In Sussex some homeowners complained motorists had been speeding through flood-water and causing damage to their properties.
A hospital and homes in the county were flooded after heavy rain overnight.
Fast driving
Police said a number of busy roads were closed in West Sussex, including the A27 between Chichester and Havant, the A29 and A259 at Bognor, the A272 at Petworth and A280 at Long Furlong, Patching.
Insp Phil Nicholas, of Sussex Police, said: "There have been a number of complaints from homeowners who have sandbagged their homes that fast driving through flood water is causing further damage to their homes.
"We are urging drivers to check their speed and drive carefully. Their vision will be hampered by the rain and the spray caused by surface water.
"Throughout last night and today we have been working closely with partner agencies to frequently assess the situation and ensure resources are available where necessary."
Fire crews were called to Worthing Hospital at 23:31 BST on Sunday where there was up to 3ft (0.9m) of water in the basement and lift shaft.
More than 20 basement flats on the seafront were evacuated in Littlehampton after flooding.
No one was injured but people are being urged to stay out of floodwater which is 4ft (1.2m) deep because there is a danger of lifted manhole covers and water contaminated with sewage.
A temporary rest centre has been set up at the town's Inspire Leisure Centre.
Also in West Sussex rescue teams were deployed to move a flock of 40 sheep to higher ground after reports they were at risk from rising flood waters at Kirdford, near Petworth.
The high level of emergency calls in the county prompted the fire service to issue an alert urging people to only contact them in an emergency situation and to avoid travel unless "absolutely necessary".
The Riverside Festival in Charlbury, Oxfordshire, planned for next weekend, has been postponed because of concerns about flooding. The free event attracted 5,000 people last year.
Debris on motorway
In North Yorkshire fire engines were called in to pump water out of properties after flash flooding.
Incidents were reported in the village of Boroughbridge, while there was flooding in 15 homes in the Badger Hill district of York.
Several homes were flooded in West Yorkshire and the rain also led to the partial closure of a motorway.
The M1 was closed between junctions 48 and 45 southbound and between junctions 43 and 46 northbound after flooding left debris on the carriageways.
Police said the closure followed at least three collisions. The road was reopened at 03:00 BST.
In east Leeds, firefighters pumped water from flooded homes after drains backed up in Swillington and Garforth where some residents spent the night away from their homes.
In Sheffield the A61 Penistone Road had one lane closed northbound at the A6102 Parkside Road junction because of flooding.
The road has since re-opened.
Also in the city, firefighters diverted flood water, which was heading towards an electrical sub-station in Middlewood Drive East.
Water was pumped from 12 flooded homes in the Beeston Square area of Athersley North, Barnsley.
Across South Yorkshire the fire service received 75 flood-related calls.
Both lanes of the A33 near Basingstoke are closed following severe flooding under a railway bridge.
Police said the road in Chineham between the roundabout at Chineham Business Park and the Tesco roundabout could be shut "for up to 24 hours".
The flooding under the bridge in Hampshire is about 90 to 100ft (27 to 30 metres) in length.
Elsewhere in the county a man had to be rescued by firefighters after his car became stuck in deep water in a ford in Waterlooville and started taking in water running off from nearby fields.
Crews managed to free the man this morning after the water had reached seat-level in the vehicle which had stopped in the ford in Purbrook Heath Road.
Mick Crennell, area manager for community safety for Hampshire Fire and Rescue Service, said: "Crews carried out a risk assessment, established that there was saveable life and took swift action to conduct this rescue.
"This incident highlights the dangers of attempting to drive through deep water and it gives an indication of how quickly the situation can change and become life-threatening."
In London train services have been affected due to flooding at Moorgate, Fulwell and Ockley.
Homes were also flooded in the capital.
Sasher Thomas, from South Norwood, Croydon said she was forced to move out of her second floor flat overnight.
She said at about 22:00 BST on Sunday she started to find leaks and began putting buckets out.
"I tried putting them everywhere but eventually just had to leave," she said. "My furniture is all damaged."
She added about nine residents had to leave the block of flats which is owned by a housing association.
The Environment Agency advised people to be alert for disruption from possible flooding across parts of southern England.
There are amber warnings for Hampshire and Berkshire where between 20 and 60mm of rain is predicted.
In Wiltshire, Dorset and Oxfordshire yellow warnings have been issued with the potential of a month's rainfall in just a few hours.