Hastings funeral for speedway's Lee Richardson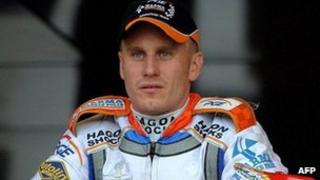 The funeral of British international speedway rider Lee Richardson has taken place in his home town in East Sussex.
The Lakeside Hammers captain, 33, died last month after hitting the safety fence in a league race in Poland.
Fans lined the entrance to Hastings Crematorium to pay their respects, and a public wake was later held at the Eastbourne Eagles' Arlington Stadium.
He raced for clubs in Coventry, King's Lynn, Poole, Reading, Swindon and Eastbourne during his 17-year career.