Thames Water could lift hosepipe ban early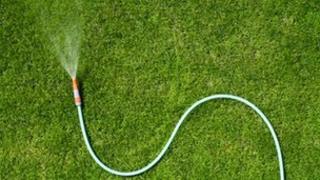 Thames Water has said it could lift its hosepipe ban sooner than expected after wet weather cut the risk of drought.
The company, which serves 8.8 million customers in London and the Thames Valley area, said it no longer expected to keep the ban through to the autumn.
Seven water firms across southern and eastern England brought in restrictions in April after two dry winters.
But the bans were followed by record rainfall across the UK in April and more in May.
When the bans were introduced the companies warned they could last past the autumn and possibly into the winter.
But the latest drought briefing from the Environment Agency said the wet weather had significantly reduced the risk of drought and widespread water restrictions this summer.
'Saharan twist'
River levels and reservoir stocks, which had fallen as low as in the drought year of 1976, have improved significantly and further water restrictions for the public and businesses are unlikely, the agency said.
Richard Aylard, sustainability director for Thames Water, pledged it would not keep restrictions in place for any longer than was necessary and said customers would be updated on the situation towards the end of June.
"But unless the topsy-turvy British weather delivers an unexpectedly Saharan twist, we no longer expect to need to keep the ban in place right through to the autumn," he said.
While the rain has improved the situation, a third dry winter could see conditions "deteriorate" again and lead to the possibility of more water restrictions next year, the Environment Agency warned.
Groundwater levels low
In addition, groundwater levels are still well below normal in some areas and are unlikely to improve before the winter.
Some areas need as much as 140% of long-term average rainfall this winter to fully recover.
Hosepipe bans remain in place for customers of Anglian Water, South East Water, parts of Southern Water, Sutton and East Surrey Water, Thames Water, Veolia Central and Veolia South East.
Companies which take most of their water from underground are likely to have to keep bans in place for longer as groundwater levels remain low.
South East Water, Sutton and East Surrey Water, Veolia Water Central and Veolia Water Southeast have confirmed their hosepipe bans remain in place.
The companies said their supplies were heavily dependent on ground water resources, which remain significantly or even severely depleted.
12 months of drought