Exeter scientists make 'electric cloth' GraphExeter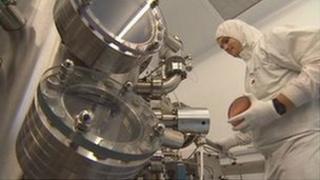 Imagine a world where electronics become so available you could wear them in your clothes.
A future where it would be possible to spray on a material which is highly conductive of electricity and is transparent as well.
According to researchers at the Centre for Graphene Science at the University of Exeter they have created this very special material.
It is called GraphExeter and is invisible to the naked eye.
The material is being produced in tiny quantities but, if researchers are right, it could have some very important applications in the future, including revolutionising flat-screen technology for computers and phones.
The material is just a few atoms thick, consisting of layers of graphene - which is just one atom thick and the thinnest substance capable of conducting electricity.
It is very flexible and is one of the strongest known materials.
It consists of a flat layer of carbon atoms tightly packed into a two-dimensional honeycomb arrangement.
As a conductor of electricity, it performs as well as copper; and as a conductor of heat, it outperforms all other known materials.
In recent years the race has been on for scientists and engineers to adapt graphene for flexible electronics.
To create GraphExeter, the Exeter team - led by Dr Monica Craciun and Dr Saverio Russo - sandwiched molecules of ferric chloride between two layers of graphene - ferric chloride enhances the electrical conductivity of graphene, without affecting the material's transparency.
The material was produced by a team from the University's Centre for Graphene Science which is hoping to develop a spray-on version of GraphExeter, which could be applied to fabrics, mirrors and windows.
The Centre for Graphene Science involves the Universities of Exeter and Bath who are leading the international research in graphene and bridging the gap between the scientific development and industrial application of this revolutionary technology.