Plans for new university technical colleges welcomed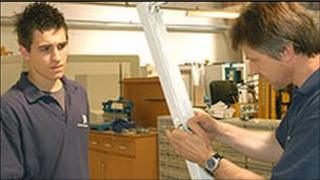 There has been a warm welcome to the news the government will create three university technical colleges (UTCs) in eastern England.
The academies, which will be partnerships between local colleges and the business community, will open in Harlow, Cambridge and Norwich. The new colleges will have a greater emphasis on practical training rather than academic work.
"This is an incredible day for Harlow," says local MP Robert Halfon. He has been fighting for many months to see a UTC established in the town.
"This will mean millions of pounds of new investment for Harlow as well as jobs and regeneration," he adds.
The Harlow UTC will specialise in environmental engineering and medical technology, in partnership with the local college, Anglia Ruskin University, the Princess Alexandra Hospital and several big employers.
The one in Norwich will be overseen by City College and will offer advanced engineering experience. It's backed by well known local employers including Lotus Cars, East Anglia Offshore Wind and several energy firms.
Like all UTCs, it will be open to students between the ages of 14 and 19 who will benefit from the close links with business.
"The energy sector is incredibly important to East Anglia's economy," says Norwich MP Simon Wright. "This new UTC will help hundreds of local young people to get the skills they need to capitalise on the emerging job opportunities."
"Local employers still complain that there's a skills gap and they're having to employ people from outside the county or from overseas," says Dick Palmer, the principal of City College Norwich.
"This tie-up means that they will offer masterclasses and internships but they'll also outline the curriculum and tell us what sort of skills, aptitude and experiences they expect from the potential recruits."
The Cambridge UTC will be overseen by Cambridge Regional College, with input from a number of medical research companies in the city, along with local hospitals, the Medical Research Council and the Babraham Institute.
"There's no institution like this currently in the city, so this will offer a new option for young people," says principal Anne Constantine.
"They will still receive a general education with a range of GCSEs but they'll receive a range of support from specialists within those institutions, in terms of visits and talks and work experience, which they wouldn't otherwise receive."
These three UTCs are due to open within the next two years. They join three others already announced, two of them in Northamptonshire, which will open in 2013 and one in Bedfordshire, which will open this summer.
The government believes this is a new way to plug the skills gap and it will be looking to create more UTCs in the future.