Five-year-olds treated for depression and anxiety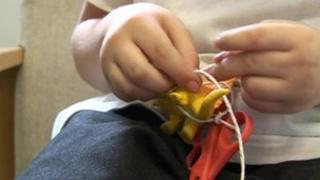 Children as young as five are being referred for treatment for depression and anxiety, the BBC has found.
Figures showed mental health teams in Sussex are working with more than 1,000 under-18s while in the Solent 324 young people were referred for therapy.
Prescriptions for Fluoxetine, more commonly known as Prozac, have risen 26% in Oxfordshire and 13% in Berkshire from April to September last year.
MPs recently announced an extra £22m to tackle child mental health treatment.
Experts said children are coming under increasing stress because of unemployment, financial problems and substance abuse among their parents.
In February, the NHS Children and Adolescent Mental Health Service (CAMHS) in Sussex estimated it was working with about 330 under-11s and about 830 12 to 18-year-olds with anxiety and/or depression.
While in Dorset, 212 young people were diagnosed with depression and/or anxiety disorder with 118 of them being under 16 at the date of referral.
Plastic animals
With the approval of health professionals and his family, the BBC was given access to a therapy room in Sussex, where eight-year-old "Jack" was receiving treatment for anxiety.
Having developed a deep-seated fear of leaving his mother he has been seeing child behaviour experts since he was 18 months old.
"The anxieties, I think started probably very soon after he was born," said child psychologist Jo Russell.
"There were other difficulties in the family, some stresses around employment and finances, and then his parents separated when he was just a toddler."
During his therapy, the BBC observed "Jack" wind up a large ball of sticky tape around his hand and tie up his toy plastic animals with string before dangling them out of the window, 30ft above the ground.
"In his mind he's putting that little creature in a position of insecurity," Ms Russell said.
"Will that little creature manage to get to the ground or not? Through that play, this little boy and I have been able to think and talk about how people cope with feeling very insecure."
Jack's mother "Joy" said she knew her son, who has thrown things at her and put holes through doors, was "different" from other children at a young age.
"He gets very like a spring, he gets wound up and explodes," she said.
"He can be very loving and caring and when it's like that it's absolutely amazing but you have the other side which goes along."
After several years of therapy, his mother said "Jack" had improved, but could still be "up and down."
NHS Solent, which covers Southampton and Portsmouth, saw 324 young people with a problem of depression referred to it between September 2010 and August 2011, the youngest of whom was five years old.
It also revealed 378 patients, aged 16 and under, were referred for a range of mental health therapies not just for depression, including cognitive behaviour therapy, anxiety management and art and play therapy.
'Entrenched problems'
Its youngest patient, a two-year-old, was referred for specialist child psychotherapy.
Barbara Inkson, child clinical psychology at Solent NHS Trust, said it was seeing an annual rise of about 10% in referrals.
However, its database can only record a reason for referral and not subsequent diagnosis.
"What is clear is that levels of emotional disorders, including depression as well as anxiety disorders and obsessive-compulsive disorders, are rising in line with other referrals to CAMHS here in the city," she said.
The charity, Young Minds, said it wants more treatments based in school and the community rather than in mental health units, which it says can be intimidating for children.
The government recently announced an extra £22m funding to tackle child mental health over three years, to expand state-of-the art psychological therapies and extend training for community workers.
Nationally, one in 10 children aged between five and 16 years old has a clinically diagnosable mental health problem and of adults with long-term mental health problems, half will have experienced their first symptoms before the age of 14.
Sarah Brennan, chief executive of Young Minds, said: "Intervening early when a child or young person starts struggling to cope is proven to reduce the likelihood of that young person developing much more severe and entrenched mental health problems.
"It is vital that we invest in children and young people's mental health in order to prevent a generation of children suffering entrenched mental health problems as adults."