Poison plant food mother Lauren Booth sentenced over son's death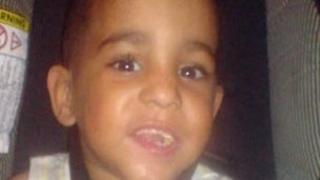 A mother whose two-year-old son died "a prolonged and horrible death" after drinking poisonous plant food has been given a suspended sentence.
Lauren Booth, 24, was asleep when her son Aaron drank the toxic liquid which Bradford Crown Court heard had probably been used for growing cannabis.
Aaron had not been fed and was probably hungry and thirsty, the court was told.
Booth, from Huddersfield, was given a 12-month prison term, suspended for two years, for neglect.
She was made the subject of a two-year supervision order.
The 24-year-old will also have to prove she is an adequate parent, the court ordered.
Sentencing Booth, Judge Colin Burn said: "Aaron's death was, on the evidence, a prolonged and frankly horrible one. And it was preventable."
The court heard it was thought the child mistook the blue plant food bottle for a soft drink.
Aaron died 11 days after drinking the liquid. his windpipe had disintegrated and he had severe burns to his lips, tongue, stomach and pancreas, the court heard.
Booth's partner at the time had taken the pH Up brand plant food into the house in Norris Close, Judge Burn said.
The blue bottle contained a highly toxic concentration of potassium hydroxide, or caustic potash, and two teaspoons of it would have been a fatal dose.
Loud thud
Information about growing cannabis was discovered in a notebook and laptop seized from the house by police.
The judge told Booth: "The evidence that this liquid was used for growing cannabis was strong.
"You should not even have allowed the liquid to be brought into the same house as Aaron."
Booth and her partner were awoken by a loud thud at about 12:40 GMT on 6 November 2010, to find Aaron lying down with a brown mouth and lips.
The judge said Booth was a loving mother to Aaron and tried her best to look after him but made some poor judgements.
He said: "Most parents do, from time to time, make some poor judgements in respect of their children. The unfortunate aspect of this case is on 6 November your poor judgement had fatal consequences."