Pasty tax: Government urged again to rethink VAT plans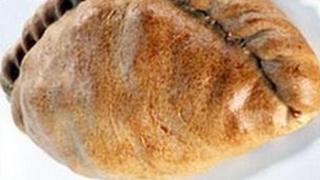 Proposals to introduce 20% VAT on hot savoury food - dubbed by its critics as the "pasty tax" - should be rethought, MPs have told the government.
MPs from across the three main parties criticised Chancellor George Osborne's proposals, announced in the Budget.
During a Westminster Hall debate, MPs said the plans were unenforceable and would have an adverse impact on jobs and businesses.
A Treasury minister said their concerns would be taken into account.
VAT is not charged on most food and drink or hot baked goods but is payable on takeaway food sold to be eaten hot.
However, hot savouries including pasties and pies are currently exempt.
Close loophole
Ministers said all food sold "above ambient temperature" should include VAT to close a loophole.
Liberal Democrat Stephen Gilbert told MPs during the debate that the plans were unenforceable and undeliverable.
The MP for St Austell and Newquay said: "They are likely to be heavily contested and they will do significant damage to the Cornish economy and high streets across our country."
He added that the move could place 2,000 jobs at risk and put 300 bakeries under the threat of closure nationally.
Samosas
The Labour MP for Bassetlaw in Nottinghamshire, John Mann, claimed the proposals put forward were "out of touch, anti-English" and the government should "get rid of this nonsense".
His party colleague, Rochdale MP Simon Danczuk, queried whether the move would affect samosas sold by businesses in his Greater Manchester constituency.
South East Cornwall MP Tory Sheryll Murray added that she feared the term "ambient temperature" was "highly ambiguous".
The Exchequer Secretary to the Treasury, David Gauke, said it was a complicated matter.
He said current rules had been made complex and unfair by previous legal decisions and the government sought changes to create a level playing field.
He said: "I have, of course, been listening to the contributions to this debate and will ensure that they are taken into account in the Chancellor's decisions."
A consultation into the proposals closed earlier this month.
The 20% levy is due to be added from October.