Shafilea Ahmed 'gasped for air as parents suffocated her'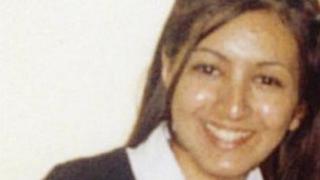 The sister of schoolgirl Shafilea Ahmed broke down in tears as she told a court how the 17-year-old gasped for air as their parents suffocated her.
Alesha Ahmed said Iftikhar, 52, and Farzana Ahmed, 49, killed her sister at their Warrington home in 2003.
She said: "My mum said to my dad, 'just finish it here'." She said her parents put a plastic bag in Shafilea's mouth and held their hands over her face.
At Chester Crown Court, Mr and Mrs Ahmed both deny murder.
Shafilea, 17, went missing from her Cheshire home in September 2003. Her decomposed remains were discovered on the banks of the River Kent in Cumbria in February 2004.
'She was gone'
Asked about the night of Shafilea's death by Andrew Edis QC, Ms Ahmed said her parents pushed Shafilea on to the settee in their house.
The 23-year-old said: "She was scared, as usual."
She said her mother grabbed a plastic bag from a nearby stool.
"First of all, they put it in her mouth, then they put their hands over her," she said.
Mr Edis asked: "Could you see any part of her face?"
She replied: "Her eyes. They were open really wide... you could tell she was just gasping for air."
Mr Edis said: "Did a time come when she stopped struggling?"
Ms Ahmed replied: "Yes. That was it. She was gone."
When asked what her parents did, she said: "They carried on with their hands still on her mouth, even though she'd stopped struggling, for 15-30 seconds."
Ms Ahmed told the court that her brother and two sisters were also in the room.
"The others ran out of the room because they were so upset. I was just frozen in shock," she said.
Earlier Ms Ahmed, giving evidence from behind a curtain, told the court how her sister drank bleach while on a family visit to Pakistan.
The incident caused severe damage to Shafilea's throat and she was unable to eat properly for months, she said.
She said the incident came after her mother told Shafilea she would be staying in Pakistan and would not be going back to the UK.
The trial continues.