River Stour waterbus launched in Constable Country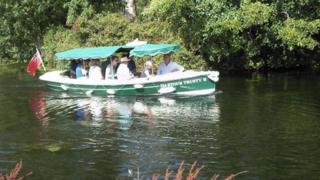 A new waterbus has been launched on the River Stour which will sail through the landscape painted by the artist John Constable.
The River Stour Trust's boat will take passengers on the one-mile stretch between Dedham in Essex and Flatford Mill in Suffolk.
The trust said the electric boat will benefit visitors who find walking both ways too tiring.
The waterbus runs on Saturdays, carries eight people and costs £5 for adults.
Dorothy Howe, secretary of the trust, said: "This is one way of allowing people who aren't physically able to walk both ways to come back on our boat.
"We run it to raise money for the trust and we think it will be very successful in its first summer.
"We could extend the service during the week in the future if it proves popular and we can get more volunteer skippers."
The boat, which was bought by the trust 20 years ago, leaves Dedham at 10:15 BST and will do four return trips a day.
The riverside footpath links Dedham with Flatford and the Constable family owned mills in both places.
Willy Lott's House at Flatford is depicted in Constable's Haywain.