Museum thefts: Are budget cuts to blame?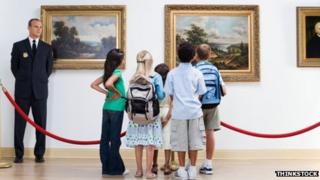 A rare bronze Medieval jug, Chinese treasures and items that once belonged to Admiral Lord Nelson have all been stolen from museums in England this year.
But while the theft of ancient artefacts in Greece has been blamed on austerity measures and the recession, could the financial climate be a factor behind recent crimes in the UK?
Cuts to local authority finances have already resulted in museums across the country having their budgets slashed.
Last year the Museums Association reported 73% of museums that had seen their budgets cut had reduced staffing levels.
The report's authors interviewed staff representing 140 museum services and found many were worried about the future impact on visitors.
But are the cuts already having an effect?
Maurice Davies, head of policy and communication for the Museums Association, said it was too early to say.
"There do seem to have been an alarming number of reports of thefts but that doesn't necessarily mean there are more thefts," he said.
"It may be that museums are getting a high profile for thefts because the press reports on them."
He said many of the items stolen were un-sellable through legitimate auction houses or art dealers because they were featured on registers of stolen art.
He added a drop in staff did not necessarily mean a fall in security.
Outside opening hours
"There is far improved technology in terms of strengthened show cases and more sophisticated CCTV monitoring.
"Most museums have never had staff in every gallery all the time and a lot of these recent thefts happened outside opening hours."
But Christopher Marinello, executive director of the Art Loss Register, said 2012 was looking like a "very big year" for art thefts.
He said in 2011 there had been 283 cases opened of art thefts in England, Scotland and Northern Ireland. So far in 2012, 136 cases have been opened.
"Each case could have one to 100 items so we are talking about possibly thousands of items being stolen," he said. "We've never been busier."
He added: "I don't know whether to attribute it to the current appalling economic situation but austerity measures put in place worldwide seem to have affected the security of cultural institutions."
He added that thefts of Chinese art could be down to the "flurry of publicity" around cultural items selling for high prices.
Arts Council England (ACE) provides security advice to museums, galleries and archives across the UK and guidance when cultural objects are loaned and exchanged between venues.
The council had its budget cut by almost 30% in the government's Spending Review.
A spokeswoman said they did not hold statistics on the number of items stolen from museums and galleries and could not comment on whether budget cuts had affected security.
But cuts were blamed for thefts from Norwich Castle.
Admiral Lord Nelson artefacts worth £36,800 were reported stolen from the museum in February.
George Nobbs, vice chair of the museums' board at Norfolk County Council, said interpreters that were recently axed at the museum could have prevented it.
The interpreters, not employed for security, were responsible for explaining the exhibits to visitors and their presence in the room therefore acted as a deterrent.
The director behind the museums' service said staff restructuring was done "with security in mind".
Rhino horn theft
But while museums around the country continue to work under straitened financial circumstances security remains a priority according to Vernon Rapley, former head of the Metropolitan Police's Art and Antiques Unit.
Mr Rapley, who is now the head of security and visitor services at the Victoria & Albert Museum, said he did not think cuts were having the same effect on security in England as they were in countries like Greece.
He said over the last 12 months a big concern for museums was the theft of rhino horn which is used in traditional Chinese medicine.
"Most museums have heeded advice to protect rhino horn and sadly they've had to remove them from display and replace them with synthetic replicas," he said.
"Once you've addressed it and made the crime more difficult there is a shift to other Chinese items and that would suggest to us the criminals have a desire for Chinese objects and are engaged in illicit trade with China."
But he added museums tried to learn from thefts and identify which items were at risk and in need of protection.
"Museums' most primary objectives are to make objects accessible while preserving them," he said.
"I don't think museums in this country are at risk because of cuts at the moment.
"There is a real understanding of the need to preserve things for future generations and that comes first."