Shafilea Ahmed's parents abused her daily, sister tells court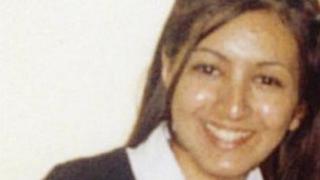 The parents of 17-year-old Shafilea Ahmed physically abused her "every day" because they disapproved of her lifestyle, a court has heard.
Iftikhar and Farzana Ahmed deny murdering their daughter at their Warrington home in September 2003.
Giving evidence at Chester Crown Court, their younger daughter Alesha said Shafilea lived "a secret life that she didn't want our parents to know about".
Earlier the prosecutor said Ms Ahmed had seen her parents kill her sister.
On Tuesday Ms Ahmed told the court that on one occasion her parents, aged 52 and 49, had threatened Shafilea with a knife.
The 23-year-old, who is on witness protection and gave evidence from behind a curtain, said the abuse had been at its worst when their parents had reacted to Shafilea having male friends.
On another occasion Shafilea was left in a room without food for several days, the jury was told.
'Restrictive' culture
She told the court they had grown up in a "restrictive" Pakistani culture and that western culture was "more free".
She said: "I think she [Shafilea] found it difficult which is why it emerged she was living a life my parents didn't know about.
"It was kind of a secret life as well."
Asked what would happen when Shafilea came into conflict with her parents, Ms Ahmed said: "She was physically abused."
She said the violence had been triggered by the friends she kept, who were white girls, her music and her non-traditional clothes.
Ms Ahmed said her parents had also "had their suspicions" that she was in contact with boys.
She believed her parents drugged Shafilea to get her on the flight to a family trip to Pakistan in February 2003, which the children were told was for a family wedding.
Before the trip their mother took a drink to Shafilea in bed.
"To be honest I think my sister was quite pleased. She thought my mother was being nice," said Ms Ahmed, who added that Shafilea had become "very complicit" after the drink and had appeared to lean on a luggage trolley at the airport.
Once in Pakistan, Shafilea feared she would not be allowed to leave.
Prosecutor Andrew Edis earlier told the court Ms Ahmed had seen her mother and father force a bag into Shafilea's mouth and suffocate her in September 2003.
Ms Ahmed then saw her parents in the kitchen of their home in Liverpool Road with bin bags and tape, wrapping the body up, the jury heard.
'Final piece'
Afterwards she saw her father outside and heard a car driving off.
Shafilea's decomposed remains were discovered on the banks of the River Kent in Cumbria in February 2004.
It was not until 2010 that her sister provided the "final piece of the puzzle" about her death, the court has been told.
Ms Ahmed had been arrested in 2010 for being involved in a robbery at her parents' home, in which three masked men tied up her mother, two sisters and brother.
Six days later she alleged to police that her parents had killed Shafilea.
The trial continues.