Southampton objects to Liverpool cruise industry's 'unfair' advantage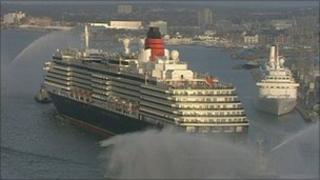 Southampton port bosses have said Liverpool's rival cruise industry has been given an "unfair" advantage.
Liverpool dock owners have been given permission to host turnaround cruises if they repay an £8.8m share of public subsidy used to build the terminal.
However, Southampton port director Doug Morrison, from Associated British Ports, said they should have to repay the entire £20m subsidy first.
"We object to the taxpayer giving a rival port a helping hand," he said.
"The taxpayer should be asking - why are they not building their own port terminal like us?
"It's about being fair and this is obviously unfair."
'Lion's share'
Liverpool was allowed to build a cruise terminal in 2007 with public funding on the proviso that it was only used for stop-offs, not turnarounds.
However, the Department for Transport has now given the go-ahead for cruise liners to start and end their voyages there on the condition that a portion of the money is repaid.
Commenting on the decision by Ports Minister Mike Penning, Southampton MP John Denham said: "Liverpool is still only being asked to pay back less than half the subsidy they have received.
"It's now down to the European Union to ensure that state aid rules are fairly applied."
Liverpool City Council claim the change in cruise rules will boost Merseyside's economy by £100m a year and dock bosses say there is no legal requirement for them to pay back the portion of European Union money they received.
Mr Morrison said: "We have the lion's share of the cruise market but we've fought long and hard for that.
"I don't object to other ports trying to pinch our business - we do that with other ports in other sectors.
"What I object to is that it is not a level playing field and the fact that the taxpayer is giving Liverpool dock owners a helping hand...
"No-one has given us a helping hand in the past - not that I would expect them to."