Somerset torchbearer selling Olympic Torch on eBay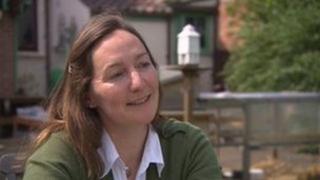 An Olympic torchbearer has put her torch up for sale on eBay to raise money for the project she represents.
Sarah Milner Simonds, of Burnham-on-Sea in Somerset, was nominated to be a torchbearer for her work as a community gardener for the People's Plot.
She said she was auctioning the torch and her uniform to raise funds for the community allotment in South Acton.
She will be carrying the flame through the medieval village of Dunster, on Monday afternoon.
Ms Milner said: "I noticed that the first Olympic torch had been put online and it sold for over £2,000.
"I said 'Oh my god, that's insane' - imagine what good you can do with £2,000."
But Adam Rooke, 36, from Exeter, who took part in the relay earlier, said he could not understand why someone would part with their torch.
"To be part of history and an amazing games is just an honour and something you can tell your grandchildren about," he said.
"Why would you go to all the lengths to be a torch bearer and then sell it? It doesn't make sense to me.
"I'll be keeping mine."
A torch currently being sold on eBay has attracted bids of $7,700 (£4,872) and is described as "used".