Rise in ambulance delays at South East hospitals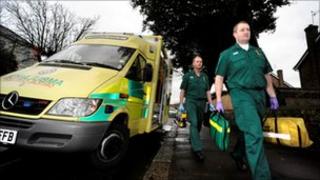 Ambulances are spending 50% more time outside hospitals in Kent, Sussex and Surrey, the BBC has learned.
South East Coast Ambulance Service (SECAmb) figures show ambulances had 36,000 hours "handover time" in 2011/12, 50% more than three years ago.
The College of Paramedics said it was a major risk to patient safety.
James Pavey, from SECAmb, said the service was working with hospitals to reduce any delays in admitting patients to hospitals.
"We've seen this hospital handover delay problem growing over the last few years," he said.
'Extreme times'
"This has a knock-on effect, so if we're waiting at a hospital to hand over our patient, we're not out providing the pre-hospital care."
He said the usual handover time was 15 minutes, but paramedics had "seen delays at extreme times of two to three hours".
Ambulances arriving at the Darent Valley Hospital in Dartford have seen average waiting times double in the last two years, with almost 5% of patients waiting more than an hour before being admitted.
The hospital said: "There has been a general increase in A&E attendances and a very busy period in February 2012.
"The average number of ambulance attendances at A&E rose from 65 per day in February 2011 to 72 per day in February 2012."
Handover times at the East Surrey Hospital in Redhill have more than doubled over the two years with just under 10% of patients waiting more than an hour.
But at the Conquest hospital in Hastings, waiting times have fallen.
'Dangerous situation'
A spokeswoman for the Department of Health said: "Everyone deserves to be seen quickly when they arrive at hospital. It is unacceptable for patients to be left waiting in ambulances outside the hospital in order to avoid waiting time targets.
"That's why we have changed the system and introduced new measures to ensure patients are seen quickly.
"Hospitals need to ensure they have proper plans in place to deal with high demand and we are doing everything we can to support them in treating patients as swiftly as they can."
Howard Catton, from the Royal College of Nursing, said: "We are seeing an increase in demand at accident and emergency. Hospitals are often running at virtually full capacity.
"You need to have some free beds so you don't have a log jam."
The College of Paramedics, which represents ambulance crews, said: "Some members have stated that they feel the situation is dangerous on occasions and is unsustainable due to the extra operational burden it places on ambulance services.
"The college feels that situations like this present unacceptable levels of risk and is not only worried about patient safety but is also concerned about the welfare and stress this situation places on paramedics and other pre-hospital clinicians."