South-east England reservoirs fill but hosepipe ban stays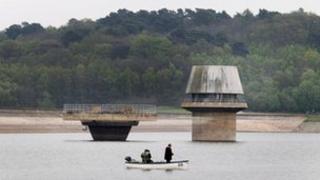 Reservoir levels are recovering in drought-hit south-east England but a wet winter is still needed to recharge underground sources, water firms say.
South East Water, Southern Water, and Sutton and East Surrey Water said rain and river water have boosted reservoirs but hosepipe bans remain in place.
Bough Beech reservoir is at 94%, Bewl Water has reached 70%, Arlington has reached 100% and Ardingly is at 75%.
All three companies said underground aquifers and boreholes remained low.
Mike Hegarty, operations director for Sutton and East Surrey Water, said: "We may be experiencing the 'wettest drought' in living memory but we are still in drought."
'Not much change'
He said the ground at the end of March was like a "hard old sponge" and had to become soaked before any water ran down to the aquifers.
"The rain has had a hugely beneficial effect - wetlands are wet again, a lot of crop problems have gone away, and there is flow in the rivers, at least in the short term," he added.
"But underground - which is what matters most for water supply in Sutton and East Surrey Water's supply area and for much of the South East - not much has changed."
The Environment Agency has said a wetter than average winter would be needed to begin to recharge groundwater sources.
Last week, the agency said drought status had been lifted in 19 areas of the country, but the drought remained in eastern and south-east England.